saltpork is comin' to town
okay, i made major progress with saltpork last night (in case anyone missed it, i just gave this sirdar sweater this random name. it has nothing to do with the sweater, unless it's the color of saltpork. i don't know. i've never seen it. saltpork, that is, not the sweater.)
see?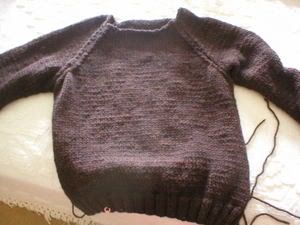 'course i cut off the ribbing with the way i had the sweater posing. but it's down there.
here's a raglan detail:
i'm hoping to ask mike's grandma how to pick up stitches on the neckline so i can finish this up! i have picked up stitches before when i made a few different handbags, but they were felted, so i want to make sure i do these right (felting is very forgiving!).
woohoo! off to new york. hope everyone has a great weekend!