a fun time was had by all
except for my mama! she had a headache, so she couldn't come to our knitting class tonight. wah! i still had fun, though. we learned how to put together the raglan portions of the sweater, which was pretty cool with a capital awesome. i managed to do a little shoppin . . .

got some patterns: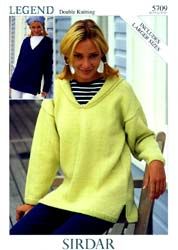 legend dk #5709 by sirdar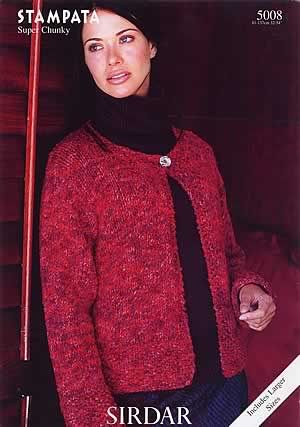 stampata #5008 by sirdar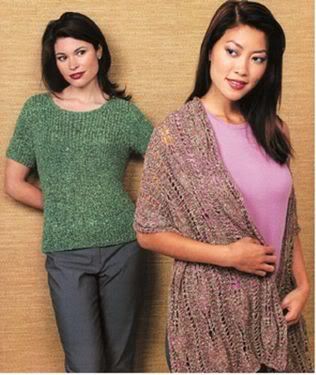 a shell and shawl by artful yarns (using cinema)

and a plymouth pattern, IN20 - "family pullover with shawl collar and pouch." couldn't find a pic to post. finding plymouth patterns on the web is nearly impossible.

i also manhandled the new plymouth baby alpaca grande. the colors are so warm, and it feels so dreamy:



i love #3317.

they also had a bunch of debbie bliss wool cotton on sale for $3.5o a ball. if i had any ideas of what to use it for, i'd get some. i mean, that's a good deal!
now, for other news: i love halloween. wanna hear a story? when i was 3, we lived in west virginia for a year. my mama decided that we could have a halloween party. i was a witch, complete with big tall pointy black cardboard hat. we jazzed it up with some halloween stickers. anyway, it came time to take everyone home. i started to crawl in the backseat of our plymouth fury, but mama objected, saying she wouldn't be able to see out the rearview mirror if my witch's hat was on. so for whatever reason, she decided to put it on the roof of the car. as in the outside of the car. why couldn't i just hold it on my lap? i don't know if my 3 y/o mind thought of asking this. anyway, i forgot all about it. i probably fell asleep in the car. the next morning, we looked out on the road, and there was my witch's hat - flattened like a possum pancake. mama!!!!
aren't these cute: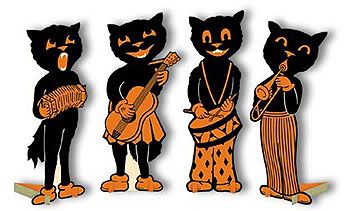 the little guy on the left end is so cute! i can just hear him now: meoooooooow.
'nite!