here she is, miss pumpkin washcloth
i took a break from knitting saltpork to work on this cute little number, right in time for the fall: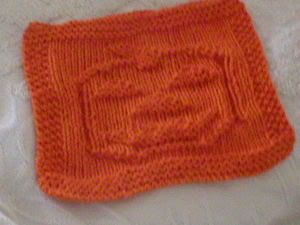 it was a fun saturday night project. now i'm going to work on the ole sleeve for saltpork for tomorrow night's class. one of the ladies in the class told me that if i had the sweater finished, she wouldn't talk to me (!). the teacher said, "well, i'll talk to you!", so i'm going for the teacher talk and not sour student.
tomorrow morning is our co-op class. i think i'd said, i'm teaching intro to lit to homeschooled kids that are in grades 7 through 11. i was an english and spanish high school teacher for five years before quitting to be more family-oriented. it'll be nice to use ye olde degree. anyway, i've chosen to focus on short stories tomorrow, and we'll be reading "gift of the magi" by o. henry. i am looking forward to it, but i'm also looking forward to the minute it's over. know that feeling?