Here's Gabe in the Tassled Hat (from Maggie's Rags) that I did up last night with size 8 circs (16") and some leftover Encore worsted weight. If it'll fit his head, it should fit one of my nieces. Woohoo!

Today I'm pleased as punch to be able to work on my current WIP, my huge felted knitting bag from Painted Spring Designs. It's supposed to look like this: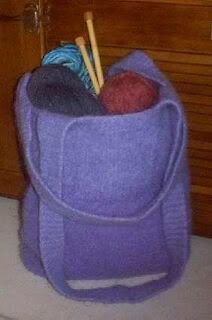 I'm doing it with Lamb's Pride in Spruce (M52). I'm at the part now where I have to knit in the round for twenty inches. This is good busywork for when I'm waiting at piano lessons or gymnastics for the kids. Woohoo! It's for my sister for Christmas. She wants some eyelash at the top. I'll think about it!