more progress on the hallowig!
albeit very little progress, at that!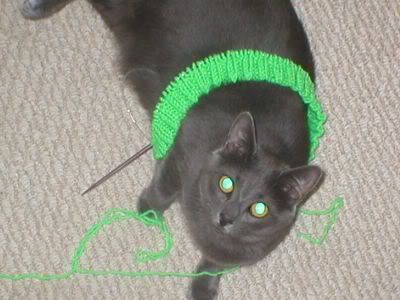 cloudy put in her green contacts to match the lime-slime

hallowig

. *snicker*

boo! and here's some bad timing - i'll be in ny this weekend, camping next week end with my scout troop, and then in california during

this.

i'm so bummed!

chelsea

posted about this great idea for bloggers up there to meet -

make your own blog bag!

this looks totally cool!
i think i'm going to make a booga bag using this colorway of noro kureyon:

#128
wendy

is working on "butterfly" using this colorway, and it just made me go and get that very same shade for my

booga bag

. i'm psyched! i just bought the yarn at

www.woolneedlework.com

for only $5. something a skein; with shipping, it came out to be about $8 each (i bought three). i think this is a good deal (found out about it via knittyreader's forum). if it isn't a good deal, don't tell me. i'd like to think i did something frugal today!