my favorite meal!
tonight, mike had to work late, and the kids picked out kiddie tv dinners for themselves, so i decided to make my favorite meal - tofu and peanuts! doesn't it just make your mouth water?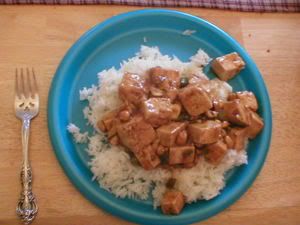 i got the recipe from the wife of one of my college professors. when we were vegetarians, we had this a lot. it's yummilicious!
here's the recipe:
1 cake firm tofu, rinsed off and diced
1/2 c. diced green pepper
1-2 tsp. minced garlic
1/2 c. dry roasted peanuts
saute the above in about 4 T. oil until it looks like it's been sauted. then add this sauce, which you have already mixed together:
1/4 cup sherry
1/4 cup water
1/4 cup soy sauce
2 T. molasses
1 T. vinegar
4 tsp. cornstarch
reduce heat and let it simmer till sauce has thickened. serve over steamed rice. oh yeah!!!!
mike now hates tofu (apparently he always did, but never told me), so i sometimes make this for him with chicken and broccoli in it instead.
in other news, i finished saltpork's other sleeve. now it's time to make it up! woohoo!!!!!!!!!!!!!!!!!!