stash, not trash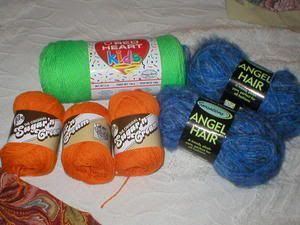 well, i went and got some orange sugar and creme yarn so i can make some of those cute pumpkin washcloths. since i love orange and pumpkins, it's a fun thing to work on! they're mostly all presents for others.
i found this other really soft yarn at jo-ann's tonite. it's called angel hair by sensations, and it's a wool/acrylic/nylon blend. it feels incredibly soft. i bought two skeins; not sure what i'm going to do with it, b/c there's only 120 yds per skein. but i had a bucket hat (chicknits) in mind. i'd have to pair it up with something else, though, in the worsted weight family.
and last, but not least, i got some red heart kids for a certain hallowig! i think i'm joining the hallowig along. now that i have the yarn, i have no excuse really!
feeling kinda stressed out tonight. i have a lot to prepare for this upcoming class i'm teaching for our homeschool co-op. it'll be fun, but it's just one more thing on the schedule, you know? oh well!