whoa, mama!
little mama was very excited about her work last night. she finished the ribbing on her sweater and was working her way through the stockinette stitch in no time. every time i looked at her, she had this expression on her face: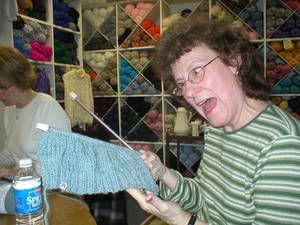 now that's one excited knitter!
our teacher, sandy, helped me figure out what i did wrong to make that weirdo stripe in my sweater. i used to have a bad habit of wrapping the yarn clockwise instead of counterly so when purling. when i was working on that portion of the sweater, i was watchingThe Others and got caught up in the plot - enough to make me slip into my old habit. Argh!
Now I just have to decide if I'm going to frog or let it go.
In other news, I really hate it when cereal scrapes the roof of my mouth. And tonight's the finale of big brother 5. I'm psyched (but sad that it's the last one!)!!!