home sweet home
Don't get me wrong, I love to travel. But to quote the late great John Denver, "Gee, it's good to be back home again!" And awaiting me at home were two welcome sights: Cloudy, and a cold 2-liter of Diet Dr. Pepper. Woohoo!

And now, the top ten things I loved about our California adventure:
10. Eating out for every meal and not having to do dishes (although at some point this got really old!);
9. Enjoying the warmer climate while hearing of the chills back home in PA;
8. Seeing the movie The Notebook on the flight back home (Darn those Nicholas Sparks books/movies, darn them!)
7. Getting over my fear of feeling my stomach flip, like Carly Patterson, while on a roller coaster;
6. Putting my hands in the stars' handprints at the Mann Chinese Theater;
5. Counting lots of our vacation as homeschooled days for the kids;
4. Getting an extra three hours in our day, thanks to the time zone change;
3. Finding the Knitty Gritty and being told to "go for it" by dear hubby (sad news to follow);
2. Marveling at the beauty of the Pacific Ocean and how it compares to the Atlantic (they're so different!);
and
1. Spending ten days' worth of time with my beautiful, wonderful family.

*gag*

Seriously, it was awesome that Mike didn't have to work, we didn't have to run here and there for various errands, and we could all just enjoy life and explore together.

Anyway, here are some pics!

Here's Marah and Gabe on the Small World ride (which was just like Disney World's, but longer):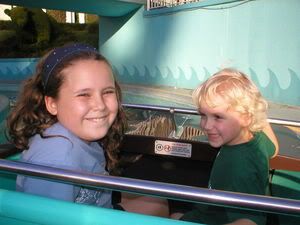 Feeding the animals at San Diego's Wild Animal Park (part of the S. D. Zoo):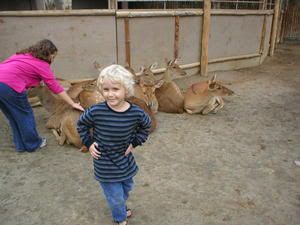 Look! I saw a star!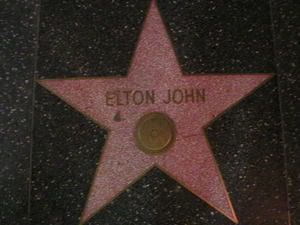 Hee, couldn't resist. Actually, we saw ONE, count 'em, ONE celebrity. It was the boy from Even Stevens (don't know his name; he has curly brown hair). He walked by while I was chomping away on an egg salad sandwich at Johnny Rockets in Hollywood.

So of course, I had to take a picture of this famous star: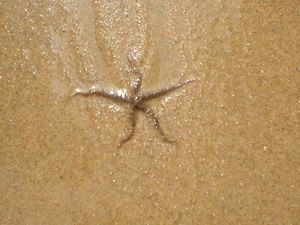 *giggle* This sea star washed up on the beach near Newport.

While the weather was great for 7 of the 10 days we were there, we had rain for three of 'em. Here's a warning from the skies (above the LA skyline):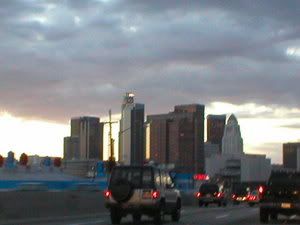 Look at how little Mary Pickford's handprints and shoeprints were: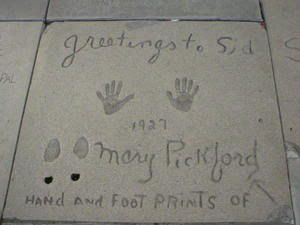 Here's me and Mike, after he saw my receipt from the Knitty Gritty: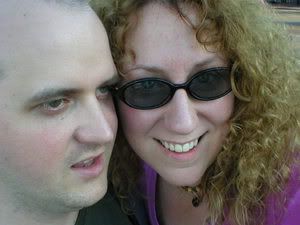 Oh yeah, the sad news. Well, I just got an email from the owner of the Knitty Gritty, (not personally, I joined the mailing list) stating that she's giving up the shop. It's for sale, if anyone is interested. If I had the capital and the desire to move to CA, I'd buy it! But I have neither, so . . .

California is gorgeous. The peoples are so diverse, the land is just simply stunning, with all of its mountains and open sky. And it's mega-exciting. However, I'm really, really happy to be home!

Knitting news? Yup! Maybe tomorrow. I'm exhausted and have a ton to do. Bye!