keane and california
it's sure been a typical autumn sunday - heavy clouds, chilling winds, crispy air. know what i mean? it's kind of bittersweet. i like autumn, with all its orange and pumpkins and what not. but i adore summer, and this really means it's over, and it's a long ways off. *sigh*
well, we're headed to california on wednesday. i haven't said much about it, have i? i'm excited, i mean, i've never been there, and it should be awesome to have mike home without him leaving or coming home late b/c of work. we'll be there ten days. i'm sure once things wind down here i'll be more excited. i still have a homeschool class to teach tomorrow (we're starting poetry, which is 100% awesome), a girl scout event on tuesday (an outdoor rocks badge workshop!), and lots of housework and laundry to do before we leave (which is 4:45 a.m. on wednesday). i wonder if airlines allow knitting needles anymore/yet.
of course i'm totally psyched to check out the yarn shops in the area (we're going to disneyland, so we'll be in that general area). i'm also geared up to go to a silent movie theater and visit buster keaton sites (house, grave, etc.). i'm a huge silent movie fan!
here's a rare shot of buster smiling: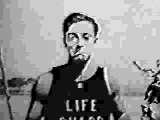 i'll miss cloudy waking me up everyday with her little paw-paw dance. i hope she remembers me when i get home.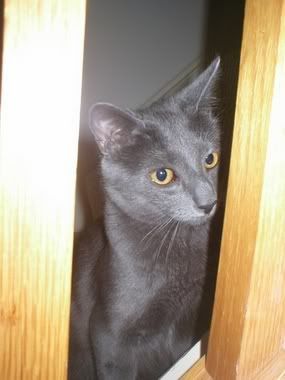 today we visited "harvest days" at a local museum, and it was cool to check out the spinners there. i'd never really seen spinning in action. the two spinners there invited me to check out their spinners guild meetings. do i have time for another obsession?
yup.
anyway, if you haven't heard them yet, check out keane. you might like "bedshaped" and "emily." the song they have out now is "somewhere only we know." unfortunately, it's used as background music in a victoria's secret commercial, which only makes me think of tyra banks' billboard forehead when i hear the song now. oh well.
have a good sunday night!