knittin' news, knittin' news, knit-knit-knit-knit-knittin' news
amanda
, a great gal friend of mine, emailed me and asked if i did any knitting on my vacation. did i? oh yes, sir. oh yes. mwahahahhaha

okay, here's what i worked on:

1. gabe's bolus sweater. i had quite a time doing the shaping for the v-neck portion. i finally figured it out, no thanks to sirdar's pattern. "decrease one stitch on the neck edge on the next and every following fifth row." sounds easy now, but for whatever reason, i couldn't get the counting right. i guess all the burgers and fries had gone to my head, or i'd been on

big thunder mountain

way too many times. i finally got it, and was all ready to start on the second half of the v, when BANG! i ran out of yarn. i bought three skeins. it called for three. what the heck, man?!? i had to call my lys back in PA to see if they had any left. long story short, yes, but the wrong lot number. i just went in and compared my sweater to the two different lots they had left on monday, and one was just right, so i'm almost done with that second v. whoopdedingdong!!

2. booga bag - i started it, didn't finish it. i got to the "pick up the stitches" part, made the cool little moccasin shape and then stopped to work on . . .

3. a scarf for myself, that i was working with ggh's coco in shade #3, ravishing reds.

i had cast on 28 stitches, b/c i don't like skinny scarves. but in the end, 28 was too much, so last night i ripped it all out. now that those needles are free, i can begin making mike's alpaca scarf/muffler for his birthday (eeps - 11/4 - hurry!). i'm doing that in a plymouth pattern in their grey indiecita alpaca yarn.

4. i made a noro kureyon skull cap. it's kinda funny. i have two patterns bookmarked on my pc - one is for a noro skull cap, and one is for the noro kureyon one skein hat. i printed out the skull cap instead of the one skein-er. i thought it was looking kinda small when i was making it, but i thought maybe it was just an illusion or something. or maybe i'm just
stupid.
anyway, when i finished it and gave it to mike as an early birthday present, well, it looked like he had a bottlecap on his head. so we gave it to gabe, who looks very awesome in it: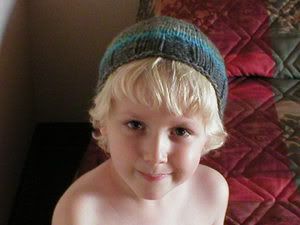 he is wearing pants!

while i was at the knitty gritty, i bought five skeins of
horstia tweed
in shade #12, which is coral. it was actually in their bargain bin, and i had originally picked up two skeins. but the night before we left, i wondered what i'd ever do with two skeins of this wonderfully soft wool blend, so i called. they were closed! but the sweet owner, tracey, said she'd stay another half hour if i could come by then, and she'd open the door for me. thanks a bunch, tracey! i still don't know what i'll do with it. i've found a few blogs with projects done with it, namely the shapely tank, so i might consider that later in the year/spring.

i'm off now to finish gabe's v-neck and put together the raglans so i can begin his neckband.
bolus,
here i come!