saltpork completed
yeehaw! on our trip to ny and 1000 islands, i finished up saltpork: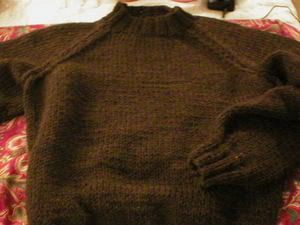 it was fun! doing up the neckband wasn't hard, thanks to my felted bag class and mike's grandma, a lifelong knitter. woohoo! i had mike take a pic of me in it, but it turned out to be kinda see-through. i guess b/c it was done on 11's? i'm not sure why that turned out that way.
anyway, our trip to new york and the 1000 islands was fun fun fun! one of the best parts was visiting the

paddocks alpaca farm

in canastota. the owners, pam keville and mark paddock, were so friendly and full of alpaca knowledge - it was incredible! the alpaca were beautiful - their names were so cute, too! one of them was born at 3 a.m., so its name was "starlite." the baby, born last week, doesn't have a name yet, but she sure did have a great coat of alpaca hair on her! here are some of the cuties: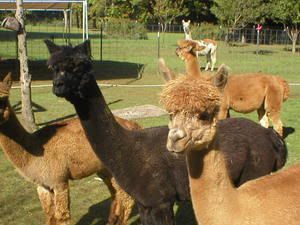 i did indeed buy me some alpaca yarn, which i'll have to post pics of tomorrow. it was cool to buy yarn from an animal that i'd just met. thanks, snickers!
after we were in that part of new york, we went up to the 1000 islands to visit mike's aunt and uncle, who just bought a cottage there. the view they have is breathtaking. i'll post pics later (i keep saying that). but here's a pic of gabe and marah on an uncle sam boat tour - they were just starting to feel the wind and reacted accordingly: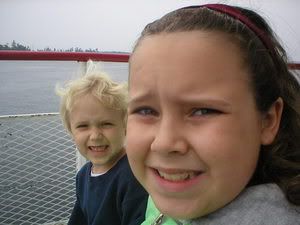 unfortunately, while we were there, i developed a yucky cold. gabe ended up getting his monthly sickness while we were driving home. as horrible as that is, at least that means he won't be sick for our california trip, which means he'll have a much better time. he is due to get sick the day we leave to come back home.
i have sweater class tomorrow night and am excited to show the teacher my sweater. yippee-ki-yay!!!!!