stash-o-rama
i think the whole world of knitting was just waiting for me. know why? i am a really bad compulsive shopper. i buy what i don't need. what i do need, i wait to buy until it's absolutely necessary. so the whole "unnecessary stash additions" that are so warmly welcomed in the knitting world really make me feel normal.
so, even though i posted a week or so ago about some patterns that i'd bought (why isn't "boughten" a word?), i got more. why? b/c i didn't need them. and that's okay!!
first, here's my fiber fix: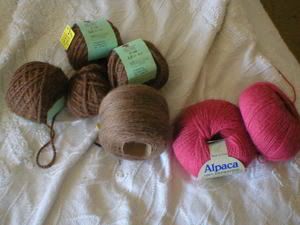 it's all alpaca. the dark brown smaller balls of yarn are from Snickers, whom i now know personally. what a friend. "can i borrow your hair for a sweater i'm making?" "sure! here you go. *snip snip*" those alpacas sure are true blues.
next, here's some encore chunky.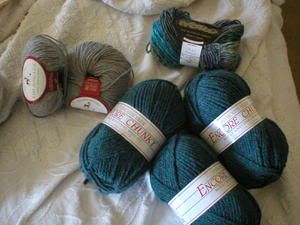 i'm making gabe a sweater. again, it's from sirdar, so again, the pattern has no name. what will i name it? i don't know. gabe is a planet boy. it might be something with a celestial theme, just for him. any ideas?
along with the encore chunky is some grey plymouth baby alpaca. i had to buy it to get these patterns (you can't buy certain patterns at one of my lys's without buying the yarn for it, and i really wanted the pattern for my other alpaca haul). you also see a skein of noro kureyon for a one-skein hat for mike for his birthday (shhhh!).
thanks for the words of rescue regarding mean lady #1. it made me feel much better! y'all are sweeties!
oh, lastly, here's lime-slime hallowig. i actually had it finished last night, but i started my decreases in the wrong spot, so when i cast off, there was a huge bump in the front somewhere. it was really weird. like a sawed-off unicorn trying desperately to hide in a hallowig or something. i frogged back to the end of the bang section and will give it another go tonight sometime. in the meantime, this pic shows the hallowig, the "lobotomy-ready" version.
other thoughts: if you were alive in colonial america, wouldn't you just love little hammy?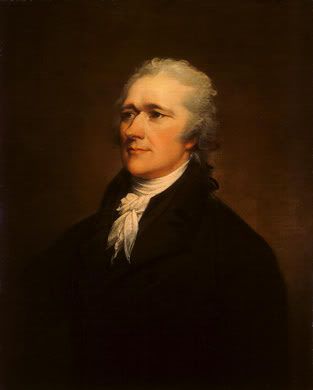 other than being happy to find one in my pocket that i'd forgotten about, i like to find ten dollar bills because they're very aesthetically pleasing. RIP ronnie reagan, but i don't want you to replace hammy on the ten spot. please and thank you.
and if you're like me and didn't ever visit this one website before, you should check out making fiends. thanks to susan for sharing the fun!