another one more
well, since mike liked the hat he modeled the other day, i thought i'd make him one identical, but i'd make it a little smaller. the one he modeled was a little long for him. but here's what happened: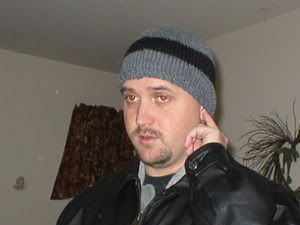 see? his little ear is poking out, or at least the bottoms are. he insists it's fine, it's big enough, etc. but i feel like it's back to the needles, where i'll just make him another and give that one to gabe. that kid has a big head, so he should fit this adult-sized hat no problem. it's weird, b/c all i did was take out two rows. *sigh* and i thought i was so clever doing that. pfffft. (he doesn't usually look this demonic, at least not on mondays.)
you should check out i'm knitting as fast as i can , where the resident knitter (i think her name is susan) just finished felting up some gorgeous oven mitts from bev galeskas' book, felted knits . i just love 'em!
i was looking at my knit one, felt two book last night and thought i'd begin the classic cloche for my mom.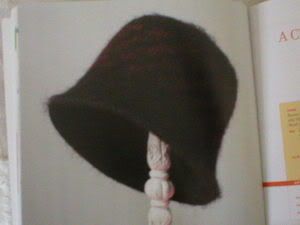 i had started a chicknits bucket hat for her, but i was using this yarn that was just too hairy, and when it came time to pick up stitches, they were hard to find. i just wasn't liking it. here's a wip shot: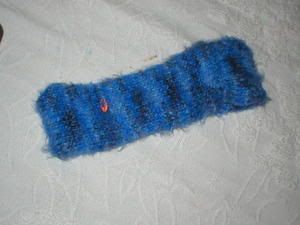 i might finish it when i'm not pressed for time, like i am now. so today, i'll begin the felted cloche for her, and i'm also going to start a very harlot poncho for marah for christmas. i'm psyched!