get down, booga ooga ooga
i was waiting for gabe at gymnastics tonight and finished up the bag portion of my booga. need proof? look no further: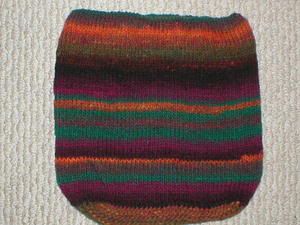 i'm really excited to finish it up, for many reasons - one, b/c it's a felted handbag pattern, which is one of my favorite things to work on. two, it's just one more christmas present that i'll be done with (for whom, i have no idea yet). three, now i can start other things! or maybe finish up that afghan that's been on the sidebar for ten million kazillion billion weeks. tonight i'll work on (and hopefully finish) my i-cord.

you know, i'm in such a hizzy because of all of these christmas presents, and i'm at the point where i'm not enjoying my knitting. so i made the decision tonight that i'm going to limit my list. i can't do it all, and i want to enjoy what i actually can do.

i've decided to make a very harlot poncho for marah. she loves ponchos, and she looks adorable in 'em. i'm going to make one for her in a pretty lavender. she has black already, which would've been her first choice, so we'll go for a pastel, which isn't my favorite, but this isn't about me, it's about that wonderful 9 y/o daughter of mine!

know what's really gross? my cell phone bill. while we were in california, my phone never said "roam" on it, so i called my mom and sister and friend rose to say hey and catch up on all the PA news. however, i guess i was roaming anyway, b/c my normally sweet little cell phone bill turned ugly. $181 dollars worth of ugly. now listen, i wanted to know how things in william penn's woods were going, but not at that price. i'm kinda miffed, but mostly i feel stupid. *sigh*

there goes some stash money. pffffft.