i am hungry for my apple jacks
but first i wanted to post so that i can eat and not feel like i need to post. make sense? good. maybe you can explain it to me later.

thank you for missing me. *smack*

i made two of those cute lil christmas bells. john lennon is going to model them for you now: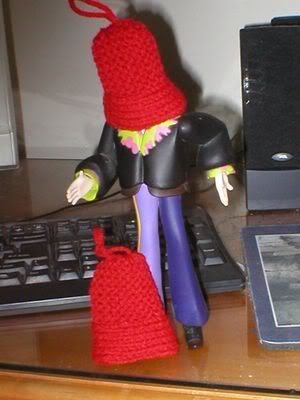 poor guy thought they were hats and got a nasty bump when the actual little jingly bell inside bumped his head.

they were fun to do, being very quick and easy and kinda cute. mine look like hats (hence john's confusion), but if i mash them into the right shape right before i give them to my intended recipients, they won't know a thing (until they unmash and look like hats again, at which point i'll have left the scene).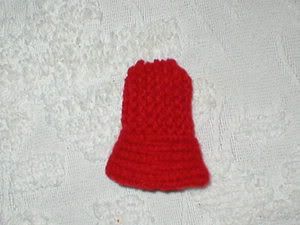 on another (but still knitting) note, i'm kinda bummed because i'd bought this nice soft brown baby alpaca back when i visited that alpaca farm. i was going to use it to make my dad a scarf, just like mike's birthday scarf, but it turns out it's more of a fingering weight than a DK. does that mean i use bigger needles? it'll be lacy then, and this is for my dad. he can cook, but that's as far as his effeminate side goes.

well, i'll leave you with this shot of marah and gabe at the american helicopter museum in west chester, pa. our homeschool group took a field trip there yesterday. it was a really interesting place - tons of historic helicopters. the docents were very enthusiastic about their subject but weren't able to lower their language level enough for their audience, who had no idea what they were saying. if it weren't for the fact that we all have polite children who could make up for the experience by climbing into some of the choppers, we would've had a mutinous bunch.