my kids are cool
my kids are cool. know why? because they love this album: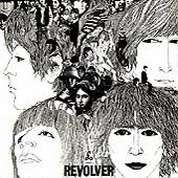 revolver, the beatles

marah has fallen for "eleanor rigby," while she enjoys the horns in "for no one." gabe likes "yellow submarine" - especially the part where paul speaks after ringo sings in the last verse: "every one of us/has all we need/sky of blue/sea of green/in our yellow/submarine, ya-ha." gabe says, "why does that guy follow the singer like that?"

i actually have made the beatles part of our homeschool curriculum. is that obsessed? yes. i'm so excited to show them some documentaries i've taped over the years!

and guess what? i finished mike's scarf! woohoo!!!!! here are the details:

Plymouth Pattern IN42
Yarn: Plymouth Indicieta Baby Alpaka DK, colorway 401 (2 balls)
Needles: Size 6 (clover bamboo)


here's a pic!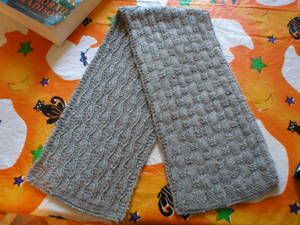 and here it is, being modeled by the one and only moe howard:



i finished knitting it yesterday, just in time for mike's birthday dinner (he asked for crock pot mac-n-cheese and a pumpkin roll). it was 95% done; i finished it up by weaving in the ends while watching arrested development. i blocked it overnight, and he wore it today. yay!

if you do any more blog reading tonite, please make sure you include checking out alisha's beaded/cabled mitten . she has a really interesting blog, and this mitten is gorgeous! see for yourself!
my hand is itchy. i grew up believing that if your hand itches, you're about to get a lot of money. i'd better make up a stash wish list, just in case!

edited to add: alisha asked a question below about the "spinner's kiss" that i complained about. i emailed her back, but i thought i'd share my answer, in case anyone else got frustrated about these knots:
i wrote:
hi alisha! i made up that phrase, attempting to be clever. it bugs the crap out of me, though. it just happened again, last night, while i was making my booga. i've come across a lot of these little knots in noro kureyon. i thought that was supposed to be good stuff!
anyway, in a knitting class i took, my teacher told me exactly what you said - it depends on the project. for instance, since i'm felting my booga, it should be okay to continue knitting and leave the knot there - making sure to tuck it in the inside. however, if it's a sweater or something really fine where a knot would be obvious, she will often frog back to the beginning of a row, cut the yarn, go back and cut out the knot, and then begin the next row as if you're beginning a new skein of yarn.
what a hassle! i called it the spinner's kiss b/c i think it's mainly a problem with really natural fibers. i can't imagine a machine making a knot while winding up some good old acrylic, but i could be wrong there.

if anyone out there has any other tips on these stupid knots, let me (and alisha) know! thanks :)