one more hat
i finished a hat for someone for christmas. it's the same pattern i used for my nephew (the red and black striped hat i had done earlier this month), which is from the knit it magazine.

mike (looking goofy) tried it on to make sure it would fit the giftee: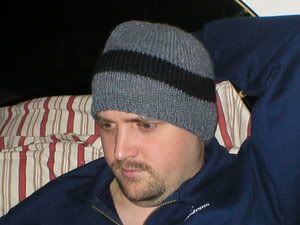 i guess this magazine only comes out once a year, or so i've heard. anyway, it's a really simple pattern. it calls for a size 8 circular and dpns, and the yarn i used was just some lion brand wool ease in both grey and black. mike said he wanted me to knit him something for christmas (i was so excited to hear that!), so i might make him one of these as well, or two or three. i also want to try the seaman's cap that susan had done (and she did it so wonderfully, too!). it looks so thick and warm.

i really want to make leo for mike for valentine's day. the problem is, it calls for Horstia Maulbeerseide Schurwolle, knitted up on a size 3 and size 4, the gauge being 24 sts/32 rows = 4" in stockinette stitch. i emailed the designer, kristi porter, and asked her about yarn substitutes, b/c i can't afford this yarn (dude, i'd need 17 skeins, and this stuff is almost $11 each!)! however, i cannot find the email anywhere. i could've sworn she recommended i try some classic elite, but i don't remember what kind. so how would i go about figuring out a substitute? do i just find something of the same weight that gets the same gauge on the same size needle? how do i do that? in other words, HELP!!

please and thank you.

we decorated for christmas yesterday, and cloudy got into the act: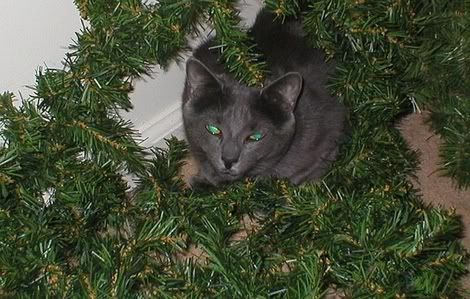 she was so excited to hide in the greens. just wait until she gets her presents! she won't know what hit her. it's only her second christmas. meow!