random tidbits
my mind is a big swirlie. no, i don't mean the toilet-head-flushing prank. i mean that so many things are always going on, and i can't think in a linear fashion anymore. it used to be helpful to create a list of things i had to do, but then the lists got too long and started to depress me. here's a sampling of what's going on in my mind right now:

1. i need to email some moms about the knitting club for kids i'm starting up in january - also need to secure the meeting place;
2. a hancock's fabrics just opened up nearby and has every possible lion brand yarn ever made; that reminds me, i need to make a christmas washcloth for a special sibling using some lb cotton i bought there;



3. i gotta get this afghan done for christmas. i started it in august and have no excuses!
4. what in the world am i going to make for thanksgiving dinner? (we're bringing it to my in-laws, since my mil is immobile from her foot surgery) i better make a list (ugh) and go to the store today.
5. i won't be at the next girl scout leader meeting b/c i'm going to a debbie stoller snb nation book signing! i have to get handouts ready since i won't be at the meeting to speak about upcoming events.
6. i need to find someone to lead girl scout day camp with me this summer.
7. i should really fold that basket of laundry before cloudy claims it as her own.
8. i wonder if cloudy caught that mouse in the garage yet?
9. i have no knitting pictures to put in my blog today. eep!
10. i'll have to do an internet search to jazz it up. a turkey. yeah, i'll put in a turkey.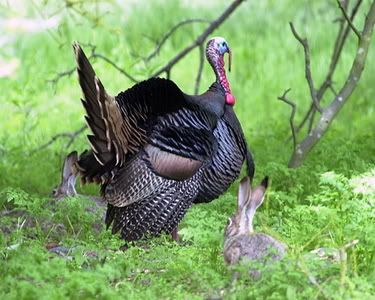 if i don't post before thanksgiving, i want to wish you all a very happy holiday! be safe and enjoy your family time. i'd also like to tell you that i'm thankful for all of you and your help and knitting advice. thank you!