sufferin' suffragettes
as meg reminds us in her blog,

GO OUT AND VOTE

! we went this a.m., we being me and the kids. they were amazed at how little time it took. i was, too. there were maybe 8 other people there. i'm hoping it's just because i picked the right time and not for any other reason, although i'm sure this being such a vital election, timing was indeed the reason for the lack of line.
i really felt the urge to honor those women who fought so hard to grant this right for their future daughters/granddaughters/etc. thanks, ladies of yore!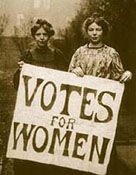 in knitting news, argh! this bugs the crapola outta me: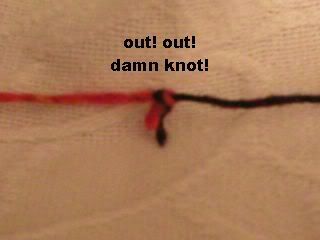 i understand that it is the "spinner's kiss." but it still bugs the crapola outta me!!
it's noro kureyon, which i'm using for the ole' booga bag. (it's in shade #128, which i chose because i loved wendy's butterfly cardigan .) it is boogarific. i'm slow going on it b/c i only work on it at night. knitting makes me sleepy, so i get maybe two rounds done and then debate on using stitch holders to keep my eyes open. rejecting that idea, the booga, and the eyelids, quickly drop.
anyway, check it out, in progress: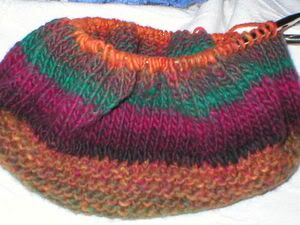 do you not see that delicious stripe of orange in the colorway? do you not want to just stare at it for a few minutes? possibly hours?
oh, okay. i guess it's just me.