super spanakopita
there was a greek festival at a local greek orthodox church today, and boy was it yummy! of course i sampled the mousaka and pastitsio, but i really was there for the pastries.
mmmmmm baklava:
mmmmmmm diples:

mmmmmm kourambiedes: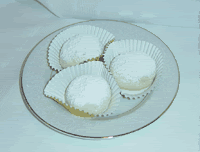 the place was packed, so much so that we couldn't get upstairs to have a tour of the sanctuary. i was rather disappointed, because i'd wanted the kids to see what it looked like. however, i quickly found solace in my honey-laden goodies.
in knitting news, i have been getting quite a few compliments on my felted bag lately. why is this surprising? because i feel like after you've used a felted bag for a few weeks, it gets balled fuzz, aka "pills." i mentioned this problem at a lys, and they recommended that i brush it every now and then to get some of that off. i haven't brushed it yet, but i've gotten compliments. does that mean people like "pills?"
or maybe i'm just my own worst critic.
my weekend goals of finishing mike's scarf and my booga bag have yet to be met. however, tomorrow IS another day. *looks optimistically into the air* i do have to make mike's belated birthday dinner (he requested crock pot mac-n-cheese and a pumpkin roll for dessert) and plan for my co-op class on monday, but knitting is like jello. there's always room (or time).
p.s. isn't this cute?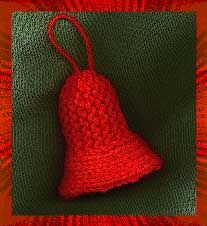 i'd like to make a whole bunch for christmas. you actually put little bells in them, so they really jingle! am i too excited about this? probably. blame it on the baklava. there's a lot of sweetness in that stuff! if you're excited like i am, click here for the pattern.
check out amy's cool gift tags! aren't they cute?