thank you, secret pal!
guess what was at my door today? a package! yeah, that's right, a package! and it was for me! from my secret pal!!!!
check it out: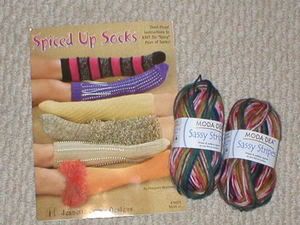 i got me some fun sock yarn - sassy stripes by moda dea. it's in a really fun autumnal blend. is "fun autumnal" kind of oxymoronic? seems that way right now.
anyway, i also got a pattern book for lots of cool socks.
thank you, secret pal! today was really majorly yucky, so it really did make the day a whole lot better. thanks!!!