that wasn't very nice.
i'll spare you the details, but let me just say that if verizon ever says they'll call or come out, don't believe them. they didn't call. i called. my hubby called. they said they came and no one was here. I WAS HERE ALL DAY!!!!!!!! as you can see, they finally came, a week after i'd reported that our internet service was down. insert expression of disgust here.

i will say that i really did realize how much i rely on the internet for research and communication. what would i have done 20 years ago, if i was a busy mom-homeschooler-cook-knitter-scoutleading-34-year-old woman and i needed to find a project or recipe asap? i am generally one to bow down to the simple life (no, not the paris/nicole debaucle), but when time's a wastin', i need answers. FAST.

so anyway. i did some knittin'. see?

booga bag. done in noro kureyon #128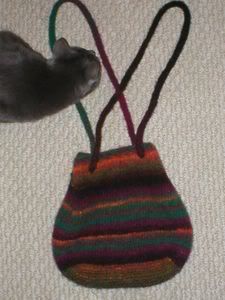 it's rounded on the bottom because i forgot the cereal box blocking instructions. round can be good, if not correct.

can't say who this is for, since that person reads this, but here's their hat, done using some black plymouth encore and some red red heart and a pattern from last year's knit it mag.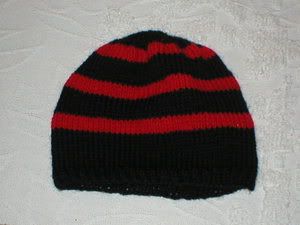 matching tassled hat (i did the smaller one a few months ago) for my niece for christmas, done using a multicolored blend from plymouth encore:


marah visited a senior citizen day care today with the rest of our scout troop, and she played uno with some of the folks there. she was nervous at first, but she loosened up and had a blast (but didn't win).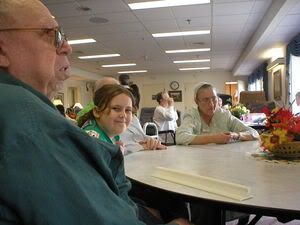 i don't know what i'm knitting next, although i have a knit-for-christmas-list that is begging me to pay attention to it. i need to finish up that afghan that i started months ago, but chances are i'll make a few more baby alpaca scarves.

i have a problem - when i get to the end of a knitting project, i tend to be very reckless and ignore things, like i felted a hat without weaving in the ends (didn't matter, but still); i've cut yarn before casting off; i blocked booga wrong . . . i think i just get so excited that i'm "done" that i really think i'm "done." and i'm not "done."

here's a parting pic of me and marah at the senior center. gabe took it - he didn't cut off our heads or anything else vital!