white roses & black friday
okay, thanksgiving dinner was just plain yummeh! my in-laws did an awesomejob on the squash, potatoes, and the turkey. i rocked on that sweet potato souffle, man! today is happy leftover day. i don't quite like the taste of reheated turkey or chicken, but i will be happy with my little bowl of sweet potato souffle, please and thank you.

there was almost a pie snafu. mike knew my feathers would be ruffled (i ruffle way too often) and bought me these to smooth it over: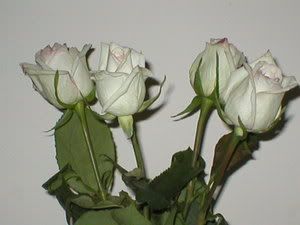 white roses are my favorites. i love orange, don't get me wrong, but a close third favorite color (black is #2) is white. i'd love for all the rooms in my house to be white, but we're too slovenly for that to ever happen.

anyway, what a great guy. he never reads this, but i'll say it anyway - i love you, mike!!

and even though i've seen it a million plus two times, i had to watch this last night on tcm: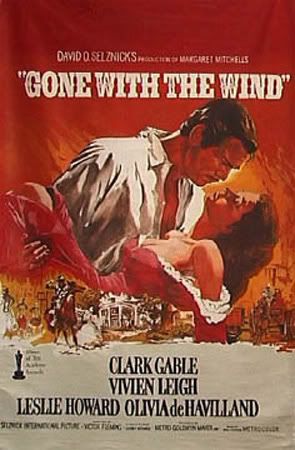 i've asked for the dvd for christmas and can't wait to unwrap it (hubby knows to stick to my list. he's smart like that.) i've loved this movie since i was a little girl. to me, it's all about costumes. i used to tie pillows to my rear and then pull a sheet around my waist, so i'd have a bustle dress just like scarlett.

knitting: i did absolutely no work on the afghan, but i did manage to start a cable hat for my mom . . . and then frogged it. i forgot i'd already started a bucket hat for her (and i may have been a little intimidated by the fact that it was my first cable project!) and anyway, i twisted my stitches when i joined the round. oops. i started on a grey hat for another family member. it's such a simple pattern, found in last year's knit it magazine. anyway, thanks for all of your nice comments on the afghan. and lisa, you and stevie are my inspiration - discipline!

before i go, i have to direct you to nancy's felted daypack from interweave knits . she did an awesome job! and check out her little tamagotchi felted pouch - her own design!

have a great black friday! be careful you don't get trampled on by some well-meaning shopper who really wanted the *insert present here* that you just picked up.