new year's in kyoto
did you ever hear yoko ono's song, "don't worry kyoko (mummy's only looking for her hand in the snow)"? oh, okay, just wondering. it has very little to do with what i was going to post, except for the fact that i thought her daughter's name was kyoto, and i decided to make the kyoto sweater, so i was going to use the song title as my post title. but alas. it won't work, because her daughter is kyoKo, not kyoTo. yoko and kyoko's story is kind of sad, by the way.
anyway, after much browing and perusing and searching and surfing, i've decided to attempt kyoto as my first for-me project of 2005 (that's considering that i finish with my ruffles scarf before the year ends, and if not, the kyoto is #2 for 2005). here's kyoto, from knitty's winter 2003 issue: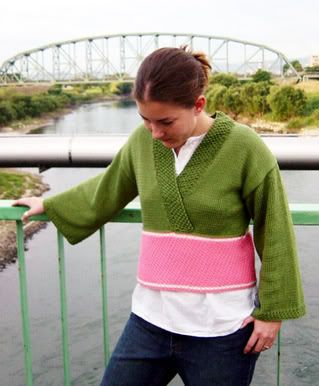 i'm playing around with the colors a bit by changing the lime green that you see into this:
it's four seasons roma in aruba aqua. i got it for a steal at elann. the pink part will be black, and i'll just slip some of the aqua into the black sash section where the original white stripe is. i'm psyched! i had made a sweater for myself in october (remember "saltpork"?), and i have worn it once, because it's not my style. it was from a class, and you had to do the sweater they chose. it's okay, but not my style. kyoto is.
i worked on ruffles today a little, but not a lot, because we had to run to mike's parents' place again to give their laptop some cpr. sometimes i can knit while riding in the car, and other times i get way too carsick. the latter happened today, so i couldn't do much ruffling!
also, i went over to susan's blog (i'm knitting as fast as i can). she has up the link for her sock pattern, and again the proceeds go to oxfam to help the tsunami relief efforts. the pattern, "hugs and kisses socks," is adorable, and it's five bucks. check it out!
and finally, i'm not sure how or why i came across this bit of weirdism, but it's worth clicking on this link if you haven't met your bizarre quota for the day.