deb stoller and me
thursday has arrived, and it's time to meet DEBBIE STOLLER!
i'm psyched. mike is already working in the area where she'll be signing books tonight, so i'm making it a family event and meeting him there for dinner. then, it's autograph time! i'll try to get a pic with her for ye olde blog.
i worked a little on my mom's cloche last night, but not enough to show any pics. i have to say i'm not really excited about the wool i'm using. i bought it at a little wool shop on the way home from stone harbor this summer. it's just really raw wool, you know? it has the vegetation bits every now and then, and my hands are just covered in lanolin when i'm done knitting for the night. i hope that when i'm done and i felt this hat, it gets over its little roughness tantrum and settles down.
allow me to jazz up my entry today with a few random pics i took last winter: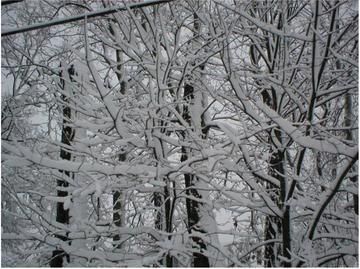 i love snowy trees.
we haven't had any snow yet. come on, let it snow!!!