feeling a little (bah hum)buggy
i don't know why, but i've been a little grinchy this week. i've had a pestering headache, which hasn't helped. i tried to make me-self happy - i bought pops,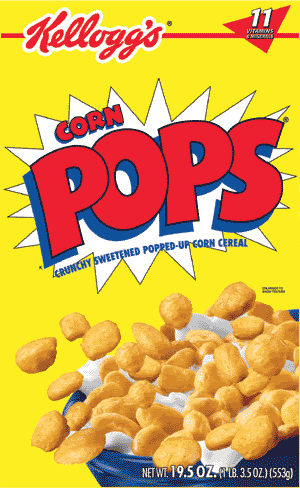 i watched
tcm
three out of three mornings so far this week, i even had a friend over today and made
oreo balls
to eat with her, but i still was kind of grumpy.

ah well.

we've had a busy week so far. monday was kind of open, but tuesday we went to a local nursing home and our homeschool girl scout troop performed a little christmas pageant for the folks there. here's a picture of marah during the bell-ringing portion of the show.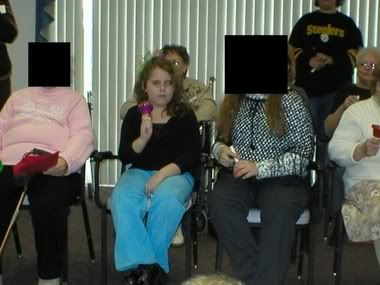 she also played "Good King Wenceslas" on the piano, which was a big step for this shy girl. (she had no choice, being that i'm the troop leader and i was emceeing the event and put her name in the program, but still, yay marah!)

i have started her yarn harlot poncho using the blackberry
peruvian collection highland wool
from
elann.
it's really a fun pattern and is my first poncho, so, you know, it's just fun! i had a bit of a stupidity attack when casting on, mainly because it calls for a 29" length circular needle and my stitches wouldn't stretch to join in a round. duh, michelle - use a smaller length or dpns and move up as you increase. yeah, i knew this, but i just thought i'd play stupid for a little bit and see if i'd get on my own nerves. it worked!

here's moe howard, playing the role of a trendy poncho-wearing shy chick: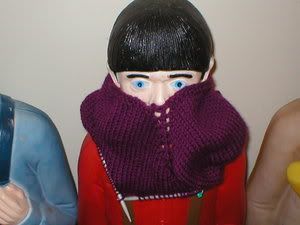 tomorrow we go to see the nutcracker ballet. it starts early in the a.m. (early=9:45) i'm looking forward to it, b/c my parents are joining me and the kids, but it also means no tcm tomorrow morning. spending the time together in such a festive way will be well worth the sacrifice. besides, this morning's movie was a real dud.

thanks for all your kind sock comments! since you were all so nice, i'll do no more sock puns. hey, by the way, don't you think moe howard looks very socksy in that poncho? oops. that one just happened to slip out. not really.