fo, fo, fo!
(for my non-knitting family who is reading this, the title "fo" means "finished object," as in "I finished knitting something, and it's a recognizable object!") woohoo!
so, here it is: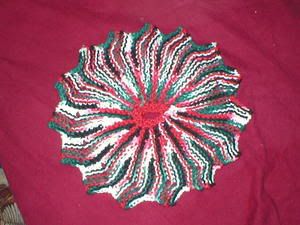 what? you didn't know i was knitting a christmas washcloth in the shape of an overly ambitious poinsettia? well, i didn't know it, either, until i found the pattern yesterday and thought it looked like fun.
and it was! so i sat down my mom's classic cloche, ignored the afghan, and shooed the grey windy day away by knitting this cute little thing. i feel kind of sorry for it. i mean, it's destined to spend a lifetime of sitting in a christmas storage box for 10 months, then being subjected to dirty dishes, turning rancid, and then being churned around in hot soapy water for the other two months.
hey michelle, it's just a dishcloth. get a grip.
the pattern is my first experience with short rows - and it was really fun! it was one of those free patterns that someone types up and hangs up at a craft shop. i'd be happy to share if it anyone wants it.
anyway, thanks for all your sweet comments on my 100 list. you feel kind of bare when you put that up there, but i've never been a private person, so why start now? anyway, your kindness, via comments and emails, was very uplifting. thanks!
have you ever knit with inox circular needles? if not, you should give 'em a try!
they're not as fast as addi turbos, but they are cool because the needle portion is almost satin-y, and it has a unique slide that the addi turbos don't have. they aren't as pricey as addi turbos, either. i only saw them in one of our four lys, so i wasn't sure of how popular they are.
and thanks also for your get well wishes for gabe. he woke up warm today, but not hot, so at least he's on the downhill part of this month's episode. we go to the pediatric rheumatologist this month for another check up, so maybe something further will be determined. right now, it's still "fuo" - fever of unknown origin. for four years. my poor little space boy.
did you know you can get heat miser address labels?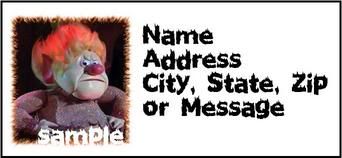 too much!