i can see
i can see the local elementary school from my bedroom window, and it brings back memories. when i was a kid, i hated going to school, and i could see my elementary school from our bathroom window. i used to wonder why i couldn't see my house from the school. i still wonder about that.

anyway, for lisa, this is a pic of gabe with the hat on, for reference.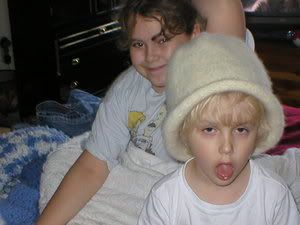 marah wanted to get in the picture, too. as you can see, neither child is really ready and facing the day. there was a tom and jerry movie on tv. it's december. i'm busy. we're taking it kind of easy these days, as far as school is concerned. that's just how decembers are here. by the way, marah's name rhymes with laura. i named her that because i always liked the name, back when i was a "guiding light" fan. i don't watch soaps anymore (despite a very embarrassing addiction to "passions" this summer when my leg was broken and i was desperate for entertainment), but i clung to the name and gave it to my daughter. she likes it, i think.

when i went to the snb nation booksigning last week, i told marah that i was upset with the fact that i'd be missing the o.c. she said, "why do you like that show, anyway?" my answer was:





but later i thought more about it and realized that he looks a lot like:




that kind of diminishes my interest. i was never really a barney rubble fan.

then, i thought about other celebrity look-alikes, and i came up with this:




jimmy fallon

and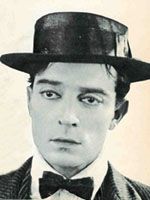 buster keaton.

don't they look alike? i think they do. my sis called last night to tell me that turner classic movies was having a buster-keaton-athon, so i ended up watching it (duh). i fell asleep, though, during spite marriage, which blows because i hadn't seen that one before. oh well. if you have never seen any silent movies before, i highly recommend you check out any buster keaton flick. charlie chaplin always gets the fame, but buster keaton is just ingenious.