i must've done something good
because i sure did get a nice knitterly haul for christmas this year! my wonderful hubster gave me three knitty books: scarf style, last minute knitted gifts, and amy singer's knit wit. although i knew about all of them, i waited until today to enjoy them. he also gave me a gift certificate to my favorite lys (oh susanna). thank you, sweetie pie!
my mom and dad gave me two gift certificates to two other lys. i am just beside myself with excitement! plus, my little marah made me a stitch marker.
my family rocks!
but before i received any of those gifties, i had a very knitty christmas eve, thanks to my krsp3!
that's 3 balls of jo sharp kid mohair in grey, 2 skeins of manos del uruguay cotton stria, and three balls of classic elite isabella. she also included a bag of gumballs (the kids went nuts; i think i saw maybe one or two of said gumballs once i made their presence known), and a pocket planner. "she" is angela from new york. thanks so much, angela! i've really enjoyed my gifties!
for the most part, we've had a great christmas and enjoyed our little family get togethers. everyone seemed to like their london beanies, felted purses, and other knitted gifts i gave them. my mom adores her classic cloche, and i'm ecstatic over that! we have one more get together to go on tuesday, and i have more knitted gifts to hand out then. the best part is, mike's off all week, and i couldn't be happier. well, yes i could. i could use some snow, for the love of orange crush! sheesh.
speaking of orange crush, i finally decided to do something with this orange-gold-black ribbon from giglio that i bought a few months ago, so i decided to try out the "yo! drop it" scarf from snb nation.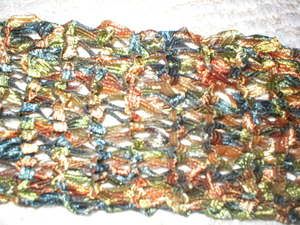 it's been fun - i especially savor letting the dropped stitches fall off and laughing at them as they fall. ha, i meant to do that, you stitch! ha! the kookiest part of working on this scarf is the timing. i'm currently working on another pair of socks, which i tend to work very tightly. then i get to this loopy ribbon yarn with these big metal needles (which is rather nauseating) and this loose tension and it's just hysterical to watch my hands get confused.
there are only 50 minutes left of christmas 2004. spend them well . . . knit! (with family around, of course!)