i smell good
which isn't so unusual that i need to post about it, but it's like this: did you ever put on a shirt or sweater right after you put on perfume, and then decided to wear another shirt? well, i must be wearing a recent reject, because i can smell my perfume on my shirt, and i didn't put any on today. wow. my rejects smell good.
anyway, here is marah a la poncho: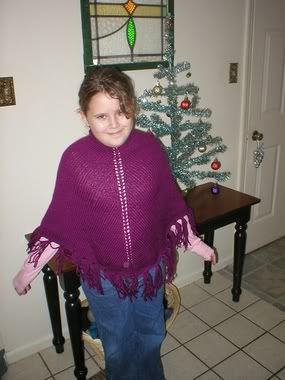 'tis true, she at first turned her nose up at the color of yarn i'd picked out, not knowing it was actually for her and her poncho. but now that it's knitted up, she really likes it and doesn't even remember saying she didn't. there are other things swimming around a 9-year-old's mind, mom! sheesh.
i finished up the weaving and fringing last night while watching real world/road rules battle of the sexes, which is kinda lame this season, but i'm a junkie so i have to tune in. i was going to save the poncho for christmas, but i really wanted to see how it fit and get that immediate *ahhhhhhhh* feeling of seeing something turn out okay.
i also finished the larger-sized london beanie for my dad. here's gabe giving it a try: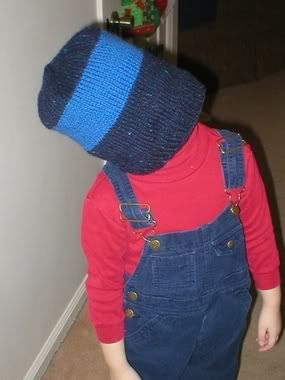 and so that you can see the difference in sizes between the two patterns, here's gabe modeling the original london beanie: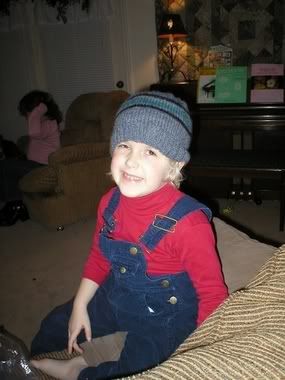 i'm currently working on another larger one for my brother-in-law, since the one i'd made earlier wasn't going to be big enough. i cast on for that one this a.m. while watching navy blue and gold from 1937, starring jimmy stewart and robert young on tcm. i have about 10 more rounds, and then the decreases. and then it's one more beanie and i am done with christmas knitting.
speaking of christmas and knitting, i had asked the huz to get me last minute knitted gifts and scarf style for christmas, and he ordered them last week at amazon. however, they won't be shipped until january 17.
well, that simply won't do!
so our plan is to go to both the local barnes and noble and borders and see if they still have them in their store stock; if they do, he'll buy them and then cancel his amazon order. while it would be kind of cool to think that christmas will still be arriving in january for me, i am not a patient gal.
nor am i full of self-control. allow me to share a typical scene at our house: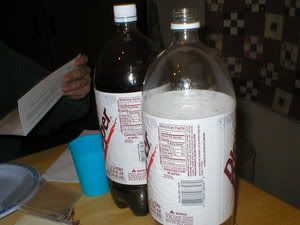 i get very scroogey when it comes to my diet dr. pepper, as can be evidenced by the size of cup i gave to mike at dinner time: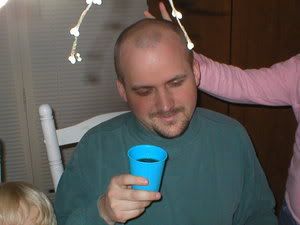 i am hoping that i can create and stick to a resolution for 2005 that will eventually leave me less dependent on this always-beckoning elixir and more dependent on things my body really needs, like water. i just hope i don't trick myself into considering that there actually is water in diet dr. pepper, thereby relishing the loophole in my resolution.
speaking of relish, i am about to relish a meeting with the wonderful lisa of knittikins fame. how cool is that? she and her huz are making their way through my area on the way to some family visits, and we're going to meet up. i'm so excited!
before i sign off, i have to direct you to nancy. she has a picture of viggo mortensen bringing her some tidings of joy under the mistletoe. you have to see for yourself!