if you ever want to win money,
then play simpsons jeopardy with me, and play for money. i was the winner tonight in our house when we played it, but that was sheer luck. i swear, i've been watching the simpsons for years, but the answers to these questions just evaded me. the name of homer's bat? don't ask me.

i was all set to make a scarf to tie around my mom's cloche, but as i was working on the scarf, it just didn't seem right. so i came across this pattern on georgia's on my mind blog, and i realized it was the perfect fit for this hat. so i grabbed some leftover cascade quatro that i had used last spring for a felted purse, knitted up a flower, and sewed it on: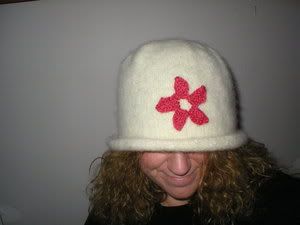 i hope she likes it. if she doesn't, i'll keep it, b/c i do!

my big happy news for the day is that marah, my dd, gave knitting another shot. marah is an adhd kiddo, so it's hard for her to focus on something that takes patience without getting extremely frustrated. as i was showing her a cast on, she was getting a little grumpy, because she said i'd showed her this last year, which is true. but that was last year, and she hadn't knitted, or actually cast on, since then. so i just kept making her laugh until her good mood returned. in the end, she did very well. i had given her some arucania nature wool leftover from yet another felted bag from last year, and she just did some garter stitch with that on some 9's. then, i told her she could make a little sleeping bag for her beanies if she knitted a long, wide strip and then folded up the end and sewed it to the other one along the edges.

well, nothing could hold her back! fortunately i had just organized my stash this a.m. so she could really see her options clearly. she chose some pretty blue angel hair and cast on with some stubbies in 17.

here's my proud knitter: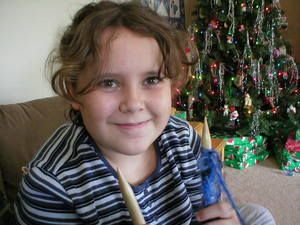 she managed to finish, with my help here and there. i'm so proud of her for sticking with it.

gabe kept himself busy by taking self-portraits like this one: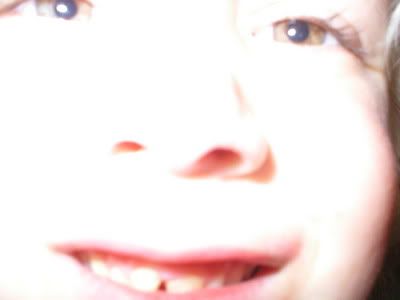 i just want to thank all of my readers for being so nice all the time. i appreciate each and every kind word and message and comment and email. i feel very lucky to have stumbled across this knitblog world, yup i do.