i'm wip'ed out
yes, oh yes. i have finished the afghan from hades. i extinguished the flames before i took this picture of it: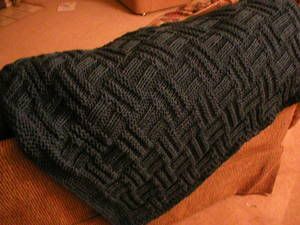 it really wasn't diabolical, i don't mean to discredit a perfectly fine blanket. the problem with it was that, as i had said before, the pattern was just really screaming for attention, and not very subtle at that. you know, one of those "k4, p2, k2, p1, *k3, p12, k5, p2, k65, p235ad g aa;lsdf;" kinds of things. it was done on 17's, so that helped. i am just really glad it's done. it took me a while to get into it and really give it the attention it wanted.

i also managed to finish the knitting portion of my mom's classic cloche: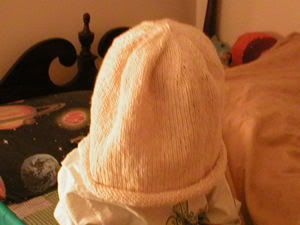 (modeled by gabe)

the pattern actually called for some colorwork, but i saw something in a lys (oh susanna, for my local readers - that's you, heather!) where the owner had felted a hat and then tied a knitted scarf around it, so i decided to skip the colorwork on this one and borrow her idea. i have plenty of novelty yarns left over from various projects, so i'll be working on that this week after i felt this big mama. i have to laugh at mike's reaction to the size: "uh, you are felting that, right?" he's learning the lingo. i don't think he'll ever be a knittin' huz like lisa's cuddlebunny or lauren's snugglemuffin, but at least i'm not speaking greek to him any longer.

now that these two wips turned into fo's, i'm officially wip-less. tomorrow, the poncho for my little marah.

oh, and to answer amanda's question, i knitted nothing at the party. mike said it would make me even less social than i was planning on being. since he's such a good guy, i listened to him and just clung to his arm, squeezing it when i was annoyed. i think the hand prints are just beginning to wear off.

does anyone out there watch arrested development? it was so hysterical tonight. it's always funny, but they just kept doing this charlie brown thing, and it had me cry-laughing. that was the second time i did that today. see how wonderful life can be post-afghan?