must-stash
i woke up and, seeing what was facing me, realized i couldn't face it any longer. my stash was a MESS. i had it all neatly piled in a wicker basket at one time. but then i'd buy some more, well, you know the story. i'm sure you've been through it yourself.

i dumped out my basket-runneth-over on the bed.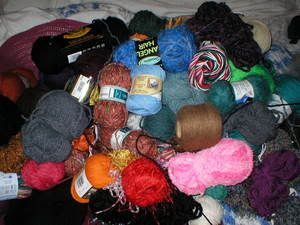 out of the corner of my eye, i saw a tower of bin/drawers that my husband bought me last year. it just had silly things in it, like porcelain cups i had wanted to paint this summer, some random scraps of construction paper, and a handful of page protectors.

taking a cue from the organization queen, lauren, i decided to evict the current bin residents and organize my stash according to type and/or weight. i'm happy to say i finished this task this morning and am already admiring the empty spot on the floor where my former stash resided.

woohoo!

last night i finished mike's london beanie, using various leftovers of previously made beanies' yarns (mostly lion brand and plymouth encore). the problem is, it looks like this: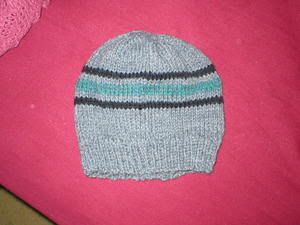 while the original is much longer (just go to the link above).

i consulted with susan, my beanie guru, and hers turned out short as well. i had wondered if, in the directions, where they give you the decrease instructions, they assumed that you knew to add in a "knit one round" in between each decrease, because it didn't say to do that. i, in fact, didn't do it, but wondered, b/c every other beanie pattern i've worked on has had that instruction in between their decrease rounds. however, this pattern seemed to be very direct and informative, such as telling you exactly when to switch to dpn's and color jog information. well, if anyone else has made the london beanie and has turned up with a long one, like the pic, let me know!

speaking of color jogs, check this out: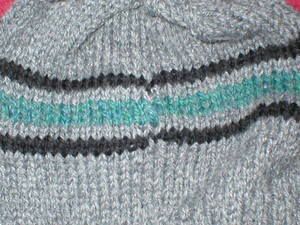 color jogs! mine aren't usually this noticeable. i guess that's something i need to learn about. i know there are tons of websites with valuable information about them. i think since i won't be doing any more colorwork before the holidays, i'll just put it on my post-xmas plan of action as an area to study. i have no problem doing colorwork when it's not in the round. but give me those circs and another color of yarn, and bam, it's jog city.

speaking of library books (just humor me here), mine were due on tuesday. the videos were due last tuesday. now, before you assume anything, i DID return the videos . . . albeit a day late. that's 8 videos times $2 a day. oopsies. the books are $.10 a day, and i have maybe 15, so that will definitely begin to add up. i could have renewed online, but i knew i had that video fine and wouldn't be allowed to. i wish i were more responsible. our libraries are really suffering from funding cuts and stuff here, so maybe my irresponsibility is actually benefitting someone for a change.

now that's the best tasting pickle i ever hoid.