orange, anyone?
since it couldn't be a white christmas (rats!), my in-laws made my christmas an orange one with these orange gifties!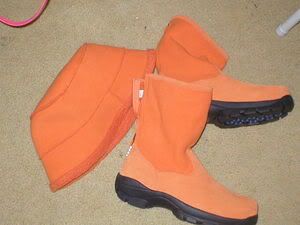 we were at mike's parents' house for christmas, part deux today. i brought bread and dessert (it was banana split cheesecake, and man, was it good!), and they made the rest of the fixin's. i don't know if i could ever get enough of butternut squash! however, i got a little too much of the spicy shrimp scampi, and for the majority of the afternoon and evening, my tummy has reminded me that i can no longer eat the way i used to when i was 17. bleh.
my mil bought me some red heart bright and lofty, along with a cabin fever mitten pattern, because she couldn't find mittens to match the orange boots and bucket hat.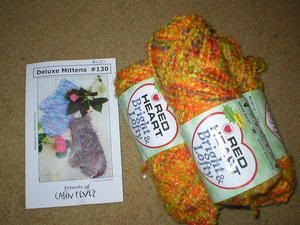 she thought i could knit my own mittens! well, now that i've made friends with sock patterns, i might be able to introduce myself to the knitted mitten family as well! we shall see.
in knitting news, a friend of mine had a baby in late november, and i finally got around to knitting something to send her way. i made the one-hour baby booties in snb nation, and the umbilical cord hat in snb. the hat was very fun to make, and the booties really did take just one hour.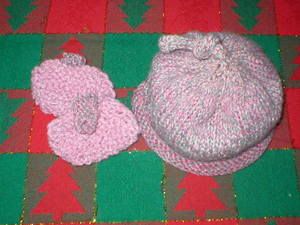 i still need to find buttons for them, but i really think i should just pick up some stitches and do a bobble to put through the button hole. i don't want to be known as the friend who gives hazardous gifts to babies.
heather and i knitted at borders on monday and had fun! she is starting a booga and picked out a really pretty colorway of noro kureyon. (to pseudo-quote garfield: i've never met a kureyon colorway that i didn't like.) i continued to work on a pair of socks (same pattern as my first pair, from cabin fever) for mike. at this point, i have one of his socks completed, and about two inches left to do on the second foot, and then i need to do the toe section. i'm doing them in a charcoal color from plymouth encore. this was supposed to be a valentine's day gift for him, but he saw the completed one lying on the table and proceeded to try it on. well, at least i know they fit.
i joined the scarf style knitalong, and i'm going to work on ruffles first, i think. i am loving this book to pieces. after i finish ruffles and my yo! drop it scarf, i don't know what i'm going to do. i like the janda hoodie in the knit wit book, but i also wanted to do gigi at some point. but i also like kyoto of knit wit/knitty fame. and then there's the rowan cork collection book i have, and i really like a few things out of there. so who knows what will grace my needles next? i feel like i did when i was in college and finals were done, but i was still on campus with tons of free time . . . so much freedom, that i don't know what to do!