the party's over
so let the party begin! woohoo! i get such anxiety for these things. it really wasn't too bad this year, though. (i'm talking about my husband's company christmas party. i like christmas, parties are so-so, but put them together and add a dash of workplace, and it just spells "get me out of here"). the president's wife was sitting next to me, and it turns out she's a knitter! so i had some great conversations with her about things. plus, she considers iceland her second home and offered to give a slideshow presentation and make icelandic pancakes for my scout troop. how cool is that?

anyway, this is us. we're happy and warm and fuzzy b/c this was taken on our way out of the party. mike looks wonky, but really he is just tired.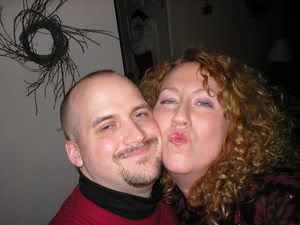 the good news (other than the party is over) is that my afghan is about 1 hour away from being done. i could finish it tonight, but it's too big to bring up to the bedroom and work on in bed. i need elbow room, so it has to stay downstairs. looks like it'll wait until tomorrow. i am going to work a little more on my mom's cloche and maybe start marah's poncho.

i'm just so darn excited that the party is over. our plan is to win powerball so that we don't ever have to go to another company christmas party again. woohoo!