rrrrrruffles have rrrrridges
i am loving this ruffles scarf pattern from the scarf style book. i'm using the peruvian collection highland wool from elann that i got a few months ago. it's in russet, which i renamed sweet potato just because i don't like regular russet potatoes. here's my wip shot: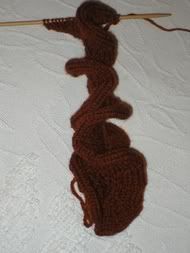 here's what the middle of the scarf looks like if you open up the ruffles: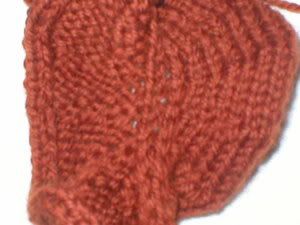 the wrap and turn short rows in this pattern make for a really cool right and wrong side - each of these has a purly side and a knitty side - all on the same side! (huh? trust me, it makes sense, even if i don't.) i'm a huge fan of patterns with short rows - they're just too fun! or perhaps i just need a life.
in other news, wendy from zibibbo has a wealth of info on recycling yarn - there's a recycling kal for 2005. this is something i've never done, but i sure do have a lot of sweaters that i don't wear any more and that are begging to be added to my yarn stash. how cool is that?!
did you ever get stuck in a word rut where you keep saying the same word or phrase over and over? i'm hoping to find a replacement for "how cool is that." any suggestions gladly accepted. this phrase is taking over my life.
finally, and most importantly, you have probably seen this link elsewhere in your blog travels, but i wanted to share this info with you about network for good. you can select from several different organizations that are collecting funds to help aid the tsunami relief effort.
plus, over at i'm knitting as fast as i can, susan is selling one of her original sock patterns, and all proceeds will be going to oxfam. i think this is so generous and wonderful of her!