shiny happy entries holding hands
it's fun to think back to things you used to think when you were a kid. like when i'd hear the heat miser's song from the year without a santa claus , i used to think that he sang:
"whatever I touch/it turns to melt."
the real lyrics are "whatever I touch/starts to melt in my clutch," but "turns to melt" just sounded good to me at the time. it still kinda does.
of course, i made the big mistake of telling the huz about that, so now it's a ritual to be teased, which i enjoy for some weird reason.
anyway, i love feeling like a kid again, and it does indeed always happen this time of year. sometimes my inner little girl will show her chubby cheeks when it's time to catch lightning bugs, but usually she surfaces in december, sticks around for a few snowball fights, and then vanishes and leaves me with a renewed sense of self, as well as a fresh approach to lingering woes.
here's something i used to do and have tried to continue the tradition, although my memory fails me often. i have this dictionary that used to be my grandfather's, aka pop. pop died when i was 9, but i still hear him telling me not to pick my nose and can catch a glimpse of him in his dark-rimmed glasses if i don't try too hard to imagine it perfectly. so yes, somehow i became the owner of this dictionary, which is totally cool, because it has an entry for the beatles, complete with little b&w photo. anyway, i had begun this tradition of writing the date on the inside cover page, sometime close to either christmas or new year's.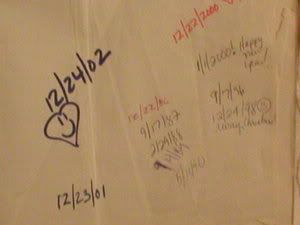 it looks like i started this when i was 16. since it's on my mind now, i'm going to write in it now so that i don't forget and feel like a schmuck when it's january 2 (which is usually when my inner little girl is starting to pack her things).
knitting. i have worked a little on the poncho for marah. it's been crazy here, so i did it when i could, which would include stoplights and traffic jams. susan understands. does anyone else out there do this? it was actually kind of relaxing, and it helped me forget that i really needed to, uh, say good-bye to the three diet cokes i had at lunch.
one of my friends, who now lives in the bahamas, had a baby girl last month. i'm going to make her the umbilical cord hat from snb, along with a pair of one-hour booties from snb nation. i'm psyched. i went with plymouth encore ( colorspun in 7990 and chunky in 241 ) for ease in washing as well as ease in wallet :)
i'm very excited to share this with you: this was one of our gifties today at our family gift exchange: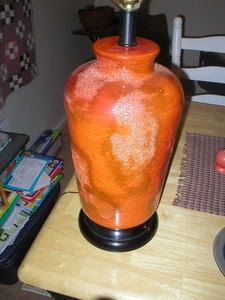 it's a vintage lamp, yes. but do you see the color, gentle reader? (i always wanted to say "gentle reader, so humor me, especially if you're not gentle.) it's ORANGE. is it not delicious? i would say that it is indeed scrumptuous. i am excited to work on replacing the lampshade with something a little more, er, non-toxic. any ideas?
i also got me some of these orange gifties today as well.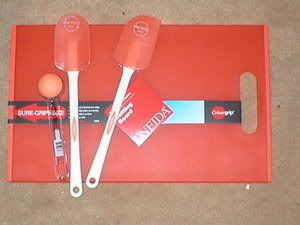 life in orange is good.