sock-sess hasn't spoiled me yet
you tired yet of these sock puns? i hope not, b/c i'm obsessed with socks right now. why? because i finished a sock! it is lonely and is waiting for its mate. hopefully she will be somewhat identical to the first one. i am just so excited!!!!!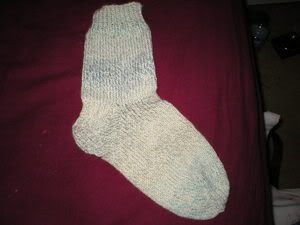 the heel is called a square heel, and apparently it is an easier type to do than a typical heel. it is also called a "common heel," but the pattern designer said that that's a strange name, because it isn't common.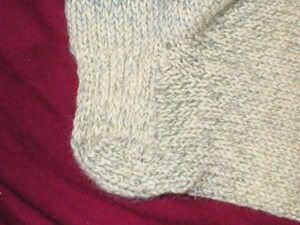 i did try it on, and it fits like a dream. i'm so psyched! my feet get very cold at night (i can put a heap of blankets on them and they act like i'm subjecting them to penguin world in antarctica), and i usually have to wear socks. these are really warm and cozy . . . and made by me. i have wanted to knit socks for over a year now. wow. what a sense of accomplishment i'm feeling! i wish i could yawp like howard dean, scary as it was.

i went into a lys today (oh susanna) and it was one of those comedy of errors moments. in the first place, the shop is just stuffed with yarn. i happen to like it, but others have complained (i have written about this before). anyway, this lady knows her stuff. i asked her if she had rowan yarn. (i'm making another london beanie.) yes, she said. what kind? magpie, i said. yes, she said. what color? something in the navy line? she walks right over to this shelf that is hidden behind a couple of boxes of yarn and shows me a whole cubicle filled with rowan magpie. as she searches, a bunch of it tumbles out all over those boxes. she doesn't flinch. i just marvel at all of it, hoping my drool doesn't land on any merchandise. i think i'm being helpful by holding some sample sweaters back, and then it happens - they all fall down. there are about seven sweaters in all, beautifully knit up and happily on display, and i made them fall. it was a true charlie brown moment. she didn't seem to be upset, but i apologized until i think that was bothering her. oh well.

i did find out that magpie is discontinued, as well as magpie tweed. i tried to find a pic on the web so i could show you the shades i bought, but they're nearly impossible to find (the shades, that is). once i finish the beanie, you'll see the colors, but i'll tell you now, i got a navy tweed and a colonial blue that is one of the flecks in the tweed for the accent stripes. i'm making this beanie for my dad for christmas, and his head is larger than the average bear, so i'm going to have to increase the pattern as well as add those knitted rounds in between the decreases (something else i'd written about earlier).

i hope to begin my second sock tonight. i am also considering adding some leaves to the flower i put on my mom's cloche. any ideas on if that's necessary or not? i was just going to knit two of the petals in some green peace fleece that i have and sew them on. we'll see. woohoo!