that was so cool!
that was so fun/cool/awesome/exciting/insert-word-meaning-all-of-the-above-here! here's how the night went:

so debbie stoller was doing her booksigning at
chester county book company,
which is about an hour from my house. my hubby was working about ten minutes down the road from there, so he figured we could meet for dinner and then go to the book signing. what a sweetie! only when we got to the bookstore and i saw how incredibly humongo it was did i realize that he didn't just come along to support my hobby, he came to shop, baby!

this place was huge. i managed to point out some things that would make great xmas gifts so that he wouldn't be shopping without a purpose during the book signing. heh.

debbie was so cool! she was wearing "flower power" and the "headline news cabled newsboy cap", both featured in snb nation. i was expecting her to just sit behind a table and sign books, but she actually had a little presentation, which was so awesome. she told her own personal knitting story (the one that's in snb), and then she proceeded to pass around examples from snb nation. they were all really cool, but i have to say that "poster boy" was really impressive to see in person. if you don't have the book, you can
virtually thumb through it.
it's really cool to think about an art imitating an art, as in knitting recreating a screen print on a handbag. it was just really cool. (okay, i think i passed my "cool" quota for this paragraph.)

she ended her presentation with a q/a session, and then we got to get our books signed. see?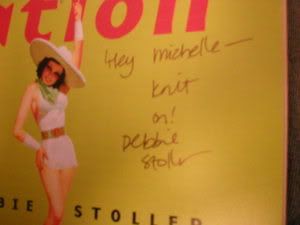 a kind lady who sat next to me offered to take our picture. marah doesn't look too energetic, but that's because she spent the whole time saying, "will you knit me that?" and "how about that one?" gabe sat on my lap and rubbed every sample on his face (we have a yarn-cheek rubber, people!). fortunately we had wiped the pizza sauce off of him before we left our permanent mark on the samples.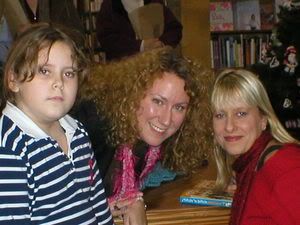 (don't look at me, look at debbie. i need my roots done and my cheeks turned off.)


lauren
, have a great time meeting debbie in dc! and
susan,
i wish you had come! maybe if there's ever a snb 3 book and book signing, we can go together and have fun!
and mayflower, my hands feel like they've been coated with resin after working with that lanolin-istic wool. they kinda feel like i've been rubbing my hands on the hair of someone who doesn't know what shampoo is. eep indeed!