warning: this post is a downer
ugh! so my elann package comes today, and i was really excited. i ordered some of their peruvian collection highland wool in two colors: #1898 - boysenberry, and #3729 - russet. it came in and looked awesome! it had a photo op, and i took it: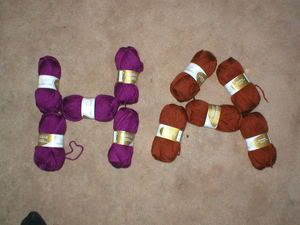 (i was going to write "hi," but there were too many skeins, so i had to make an "A" instead of an "I").
i had bought the boysenberry color to make marah the very harlot poncho for christmas. i thought i'd give her a sneak peek of the yarn(she has no idea i'm making her this) and ask her what she thought of the color. her response?
"it's okay."
i'm hoping that it just isn't impressive in its little peruvian collection label, and that once she sees it all knit up into a poncho, she'll be more enthusiastic. oh well.
i've not entirely decided what to do with the russet, but i have decided to rename it "sweet potato," and will probably do a handbag. elisa , is the sophie fun? i might try that or the felted daypack that nancy did. or maybe something entirely different! all i know is it'll be post-Christmas.
tomorrow is my husband's dreaded company christmas party. there's still time to catch a cold and not be able to attend, but time is running out. at least i got a new outfit and free meal out of it. but i dread -- with a capital HATE -- this event.
in other words, i don't want to go.
it isn't as bad as i make it out to be, i guess. i try to look at it as an event that both he and i dread, and we can commiserate together. but still. i could be cozy at home, knitting! i told him the only way i'd go this year is if he'd let me knit. if i knew it wouldn't draw attention ("oh, what are you doing there?" "oh, look at mike's wife - how quaint"), i'd happily bring along the classic cloche so i can finish it up. you know, this is beginning to be more of an upper post than a downer. yes, that's what i'll do! i will knit at the party.
now, do you think he'll mind if i stay in the car so i can knit in peace?