cloudy isn't being very sunny
meet cloudy. she's my cat. i love her to pieces. she's a year and a half old. again, i love her to pieces.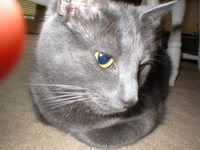 however, she seems to be having a problem lately with using her litter box. oh, she'd always have an occasional "accident" every now and then, but here lately, it's been more now than then. her favored potty place is behind the dining room table, right by the kids' schooldesks, where she plopped one out during marah's slumber party (good morning, girls! heh heh) and later on wee willie winkied on mike's shirt that was lying near that same area (why he put his shirt near the crime scene bewilders me, but i never pretend to understand a man's mind).
what's the deal, cloudy? it isn't new litter. it isn't new food. there is nothing new in or around the house. anyone have any tips or suggestions? feel free to throw 'em at me. i had to steam the floor yesterday several times just to rid us of the haunting aroma of cat pee. now it just smells like steamed cat pee.

help!
to cheer myself up, i followed a link supplied by the zibnificant wendy . there's this awesome homespun yarn seller at this eBay store called life's an expedition. she has some wonderful blends of yarn there, and her descriptive names are very mouth-watering. seriously! "grape juice," "hazelnut latte," "frosted wheat," "charcoal fantasies . . ." okay, the last one isn't mouth-watering, but the yarn is gorgeous nonetheless. here's what i bought/bid on/won: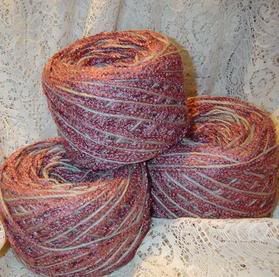 rose & jack (a la titanic)
grape juice (a la beverage)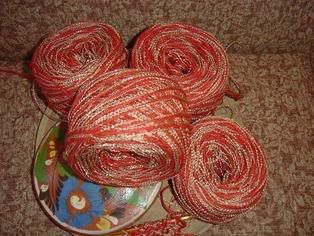 cortez expedition (a la peanut butter sandwiches)
her yarns are blends of new zealand wool and either other wools, cottons, or synthetics. i'm just crazy about them. mmm-hmm! plus, she's supernice, too, and sends you cool emails :)
the other exciting thing that i'm, uh, excited about is this: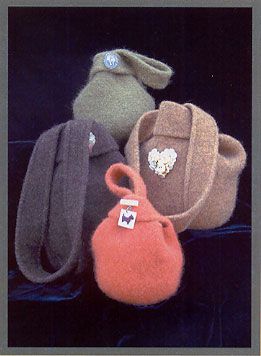 another felted bag :) what i like is how the handles double as flaps (or at least the shorter one does, as the longer one tucks inside it.) has anyone out there made the lucy before? i might use some caramel colored alpaca that i picked up last fall, although i'd really like to make a deep cranberry one, too. the pattern is by two old bags, whose city shoulder bag was the first felted bag i'd made (which was last winter).
of course i'm still plugging away on kyoto's back, but i had to start up a pair of socks for gabe. i'd made some for myself, for marah, and for mike - it was definitely his turn! i'm using a very heavy worsted weight on size 5's, and the yankee knitter classic sock pattern does cover weights from fingering to worsted, and sizes from babies to men, which is more awesome than marshmallows (which i don't like a lot, so i'm not sure what that means really).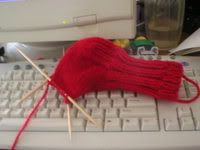 warm feet for everyone!