a delicious end to an undelicious day
let me just say this: i am not the morning person i used to be. while i can still get up at 7 and be happy and cheerful, i can't get up earlier than that and maintain said cheerfulness like i used to. see, i had to get up at 5:30 this morning. now maybe some of you think i'm a wake-up wimp, and you're probably right. but it was the fact that i had to sit through an hour car ride to gettysburg and then have my butt meld to my metal seat for 7 hours during a girl scout training, and then ride another hour home (with a headache bigger than mount rushmore).
the scout training was for being director of this year's day camp. isn't that the same thing where i broke my leg last summer? yes, it is. i'm giving it another try and will vow to keep my bones intact. the cool part is, mike agreed to be my assistant director. our theme is "dragon days," which will be focusing on the middle ages, and i'm so psyched! he has a ton of great ideas. reason number infinity why i love him so.
enough of this mushy stuff. anyway, the delicious end that came to this undelicious day was the french toast casserole i had made for the kids (and my parents, who watched the kids). it is beyond words delicious. not because i made it, but because the recipe is kick-hindquarters. i'll post it at the end in case you don't believe me and want to try it yourself!
knitting: i got some elsebeth lavold silky wool in color 20 the other day so i can make "ene's scarf" in scarf style. it's going to be my first chart pattern, and i'm nervous but very excited. i'm hoping i can borrow some smarts from fellow knitters who have charting experience (hi, papaya - aka fruitychick) if i ask nicely enough (or entice them with girl scout cookies!) :p
so anyway, here's the yarn, along with marah's debbie bliss merino dk in a lovely grape color, which she'll use for a drawstring bag she's going to make as her next project: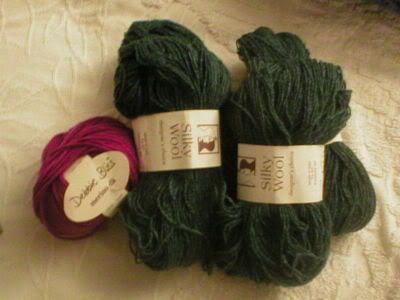 i do still plan to make kyoto, but my yarn hasn't arrived yet from elann. and i am still making those fun trekking xxl - yankee socks, but i have to start something else. it's a sickness, i tell ya. a sickness.
speaking of sick, that's how i felt when i discovered that not only did a.c. moore have no more of my giglio ribbon yarn for my yo! drop it scarf, but it's been discontinued by the folks at knitting fever. whatever for, i don't know. i have a passion for ribbon yarn, but oh well. i guess they don't give two rats' buttocks about me and my passions. pffft i say, pffft. well, i did lots o' googlin' last night, and i found that knit2purl2.com has it, and - get this - at a discounted price. i guess that's the good thing about discounted yarn - you'll miss it, but you'll get it cheap as dirt while it lasts. i got another ball to finish up my ydi! scarf, as well as some in another color to make one up for a special sister who puts barbie boots on her fingers and makes them do a cabaret dance while singing barry manilow's "daybreak." she knows who she is :)
oh yeah, here's that recipe - it's from marah's new cookbook, blend it!:
Overnight Baked French Toast
12 slices firm white bread (I used Texas toast)
6 large eggs
2 c. milk
1 tsp. vanilla
1/4 tsp. cinnamon
1/4 tsp. ground nutmeg
pinch salt
1/2 c. packed brown sugar
4 T. butter, softened
1 T. maple syrup
1. Arrange bread slices in four stacks in 8" square baking dish.
2. In blender, combine eggs, milk, vanilla, cinnamon, nutmeg, and salt and blend until smooth. Slowly pour over bread slices; press down bread to absorb mixture, spooning egg mixture over any uncoated bread. Cover and refrigerate overnight.
3. Preheat oven to 350 F. In a small bowl, stir brown sugar, butter, and maple syrup until combined. Spread evenly over each stack of bread. Bake until knife inserted 1" from center comes out clean, about 1 hour. Let sit for 15 minutes before serving.
If you have a bad day, make sure you've made this and have put this in the fridge the night before, and have it that night of the bad day. You will feel better, honest.