a fun list of good things
top five reasons why i have a smile on my face today:
5. the o.c. is on tonight, which means . . .

4. i have been successful in making dinner at home the past few weeks (as opposed to blowing money at restaurants);
3. i am going to a lys (oh susanna!) today or tomorrow to get the rest of my yarn for kyoto;
2. i was accepted onto the fiber raok ring! woohoo!!!! and last, but not least:
1.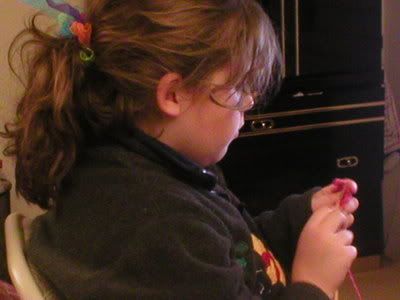 that's my marah, knitting away!
i also need to report that i'm a part of the sock it to me sock knitalong, and it's great fun. it's actually the nicest kal i've joined - everyone is SO friendly and encouraging. i love it there! click on the blue link two sentences ago to check it out.
i have a kazillion billion things to do today, mostly girl scout related. i'm beginning to feel a little spread too thin as far as scouting is concerned and will be giving up a portion of my responsibilities at the end of this year. i'm a troop leader and organizer/consultant, as well as the day camp director and events coordinator. i feel very happy and good with this decision - i'll finish up the year and then hand the reins over to someone else. when i spend too much time focusing on a volunteer activity and not as much time focusing on matters at home, that's not good for anyone.
it's another grey day here. which do you use, grey or gray? i feel like "grey" is more mellow, as if "gray" were brash. anyway, it's also almost 60 degrees. i wish it would snow and be cold and normal. january is not behaving this year.
i think we're going to the smithsonian air and space museum this weekend, to satiate gabe's hunger of all things spacey. last weekend we visited the u of penn's museum of archeology/anthropology. it was amazing there - all these statues that people used to worship for various religions sat silent and stony in the galleries. it made me wonder how much energy these blocks of marble and stone have absorbed thousands of years ago from people who put so much hope and emotion and faith into them and that which they represented. you could almost feel the energy flowing out of these faces. marah was scared. it was a little spooky.
anyway, i hope we also get to the smithsonian's national museum of american history. i live for the first ladies' gown display! i've always held some major awe for all things historically presidential.
i must go now and pick up some colonial tape looms for my girl scout troop - we're doing a "yarn and fiber arts" badge, and i'm teaching them how to weave a tape next week. have a great day!