gabesoxyarnlove
fo alert! fo alert! i finished up gabe's socks. one foot fits fine; the other is a little snug - yet both socks measure out to be the same size. i guess his feet are a little uneven. i know they say that the typical human left foot is a little bigger than the right, but i didn't come across that problem with other socks i've knitted. well, he loves 'em and they keep his toes toasty, so that's all that matters!
one thing i noticed while knitting these - i used some heavy worsted for this pair, and the decreases were very obvious. i've decided that i prefer ssk to k2tog tbl. the latter looks a little sloppy. anyone agree? (or care? :p)
here they are (in a very wicked witch-esque pic):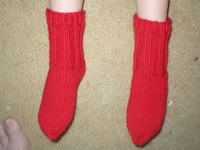 ignore the toe in the corner. i don't know who put that there.
on friday, i ventured over to Labadie Looms, which is nestled in quaint little bird-in-hand (yup, that's really the name of the town). i got some great additions to the stash family. observe:
3 skeins of lamb's pride worsted in shade M110 - orange you glad

to go along with this, one hank of manos del uruguay kettle-dyed wool in colorway 106 (autumn):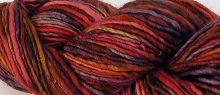 i'll be using both of the above for my lucy bag. the main color will be the orange you glad color, and i'll every now and then add in some manos -- slub style. so it'll just be some random autumnal rainbow thing going on.
i also got some yummy opal magic sock yarn in colorway 1051:

i'm really excited about that! i also picked up some nature spun worsted in shade 109 - spring green:

for some felted mittens a la felted knits. it'll be my first try at mittens, but i'm hoping that it's just like a sock without a heel, but with a thumb.
wip report: i am done with kyoto's back and am now in the middle of the front left portion. i worked on it today when i was knitting with two great gals, rachel marie of gallery 141 fame, and faith from syndactyl salutations. i'd emailed/blogged with them before, but it was our first face-to-face meeting, and it was great! ( heather! i missed you! hope to see you soon :) )
kitty update: cloudy is doing tails better than she was a few days ago. on saturday morning, she started to show some energy and was back to eating. she didn't hide upstairs under the bed all day. saturday afternoon, she was lying in her favorite sunny spot. and this morning, we discovered that she has begun to use her litter box again. woohoo! (okay, so little things excite me!) i'm so happy to have my littlest girl back to normal, feeling good, and meowing up a storm. you know, cloudy is a very vocal little kitty. when we sneeze, she meows. i really do believe she's saying "bless you." (it may actually be "shut up" when i'm on my 14-in-a-row sneezing marathons.)
our house smells back to good and cloudy is sunny again. thanks again to everyone for their helpful advice!