Gimme an R! R! Gimme an Uffles! Uffles!
and that spells ruffles, as in i finished it this morning. woohoo! it's supposed to be 86" long; i think i made mine about 80". mike kept saying, "how long is that thing?" he's supportive and kind and all that good stuff, but once he starts noticing my knitting, it tells me that i'm either making something extremely weird, or something extremely big. since ruffles isn't all that weird, i'm going with the big option. in this case, big=long.
here i am in ruffles, sans head: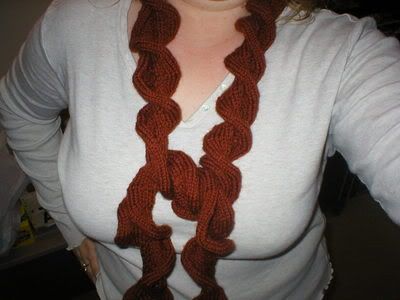 (edited to add: i made it using highland collection peruvian wool from elann, in the russet shade. sorry 'bout that!)
i wore it to a local elderly day care today, when i took my homeschool girl scout troop over to play some table games with the folks there. we had a small turn out of girls, but we still had fun! the girls played jenga, a fun card game called "tutti frutti," kerplunk, and did puzzles. but what has this to do with ruffles? well, one of the ladies there was staring at my scarf like crazy and asked me, "what is that you're wearing?!" it's funny - she didn't ask it in the sense of "what is that delightful accessory you're wearing?" but more in the vein of "you may need assistance with that thing you have hanging around your neck." i told her it was a knitted scarf. she just kept staring.
and that's pretty much the reaction i got to it all day, really. just staring. my friend rose said it was pretty cool, but mostly everyone else just stared. is ruffles stare-worthy? or was i unbeknowingly wearing a pepperoni from today's leftover pizza hut lunch somewhere on my shirt? unless the latter is true, and said pepperoni fell off while i didn't see notice, i may never know.
i'm psyched. know why? i have started up a homeschoolers knitting club! oh yeah!! we're meeting once a month at the local barnes and noble, with next week being our first meeting. yes! i have to feature a book each month, so i'm starting with kids knit by sarah bradberry. marah's going to knit some of the projects in it to show the group what can be done, and that things can be done. i also hope to take them on a few field trips, including a local alpaca farm. this is too cool!
a few of you have mentioned lengthening kyoto. yeah, i'm not a midriff-baring kind of gal (i have two c-sections to thank for that, but that's okay), but i like the idea of wearing it shorter over a longer tee shirt. i may lengthen it after all, though. i think i'll have to play it by ear (or by midriff).
while working on kyoto, i'm going to continue my yankee socks, and i might start up the forbes forest scarf out of scarf style. i still have that yo! drop it scarf, too, but i have to run and get another skein of giglio for that.
but right now, i'm not running anywhere. my ear hurts when i swallow, and i feel like i've been steamrolled. yippee!