huzzah!
i wonder why we stopped saying huzzah. it's a fun word. anyway, here's a list of huzzah-worthy things from the past few days:
1. we went to dc this weekend and took my parents. that was the most exciting part - my dad hadn't been there in over 30 years, and my mom has never been there. taking in history through their eyes made it all the more fun. here's mike, gabe and marah making pretty at the air and space museum: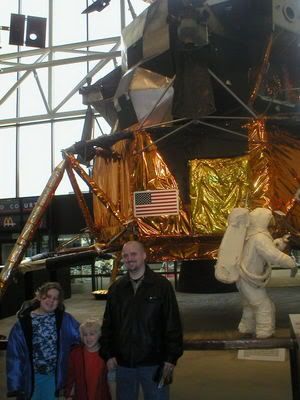 this display always cracks me up - they show the different layers in an astronaut's suit. this layer is the first one - the "fecal containment layer." the guy's face shows bitter humiliation. it just cracks me up.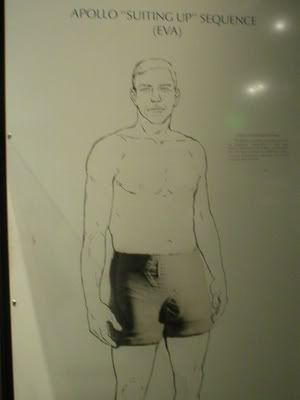 2. i finished yo drop it! and am pleased with the results. i altered the pattern by not including the "knit rows 3 and 4" directions. i'll take a picture of it and post it later.
3. it finally snowed! it's just a confectioners' sugar glaze out there - not a full-fledged vanilla buttercreme. but it's still icing, i mean snow, and well, huzzah to that. here's a front porch view: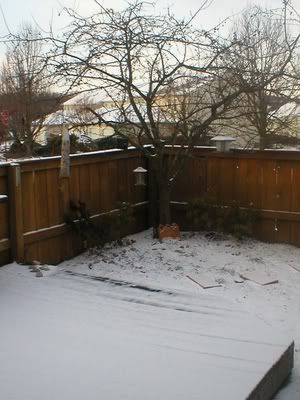 4. marah helped me pick out the contrasting color for kyoto - she saw jo sharp's summer soho cotton in sailboat and suggested it, and it goes beautifully with the aruba aqua that we got from elann (it's four seasons roma). it looks pretty cool together: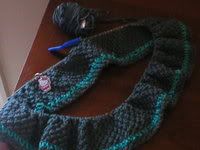 5. gotta love this double seed stitch pattern: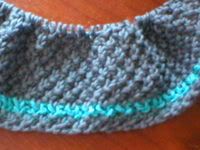 it is going to take a little longer than i'd like, but that's okay. maybe it'll teach me some patience.
6. our state's farm show is over now, but this weekend on one of our local cable channels they showed the entire "sheep to shawl" contest. since i don't go to the farm show, it was a nice treat to be able to see the only thing i'd ever go for and not have to go to see it. (huh?) they sheer the sheep, card the fleece, spin it into yarn, and then get to work on weaving a shawl. the shawls are gorgeous - and the winning one (which was loosely based on frank lloyd wright's "falling water" ) fetched $2500 at the following auction. huzzah!
7. i've been raok'ed -twice! two sweeties, manda and kate both sent me gift certificates to adagio teas. i'm really excited! ever since i met up with heather and had some calming tea with her, i've been back into tea. i appreciate the kindness - thanks manda and kate!
8. american idol starts up this week!
now, 2 things not so huzzah-worthy:
1. i discovered that one of my brittany dpns has snapped in half. i pulled out my socks to finish up the last one, and i saw this big splinter sticking out of the one dpn. they have a guarantee - anyone ever take them up on it?
2. i lost my sock pattern ! i haven't seen it since saturday. i'm at the heel flap for the 2nd sock, and i don't know it by memory yet. guess i need to go to the lys and get another. drat it!
well, that's it for huzzahs and unhuzzahs. i better get the kids dressed for the snow before it melts. have a fun day!