kyucko
what do you get when you mix full mental engrossment in american idol while knitting kyoto?
you get

kyucko

. observe: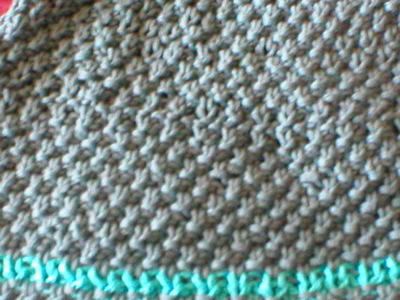 see that weird line in the middle of ye olde sash? well, i must've done a purl-knit row instead of a knit-purl row, or vice versa, versa vice. crapola, man. do you know how long it took me to do this, with its 210 cast on stitches and size five needles?!?!? well, it took awhile. i have to frog half of it. marah says "let it go! you can't tell."
but i can. i don't want to say "here's the sweater i knitted. and oh, here's the complimentary flaw i included."
marah said, "mom, it's your first sweater, relax."
uh, no, marah, it's my third.
"oh." she replied. "well, still . . ." she trailed off.
anyway, that was yucky, but this is the anti-yuck antidote. check out this awesome raok from illanna ! she took the pic i had on my blog (where moe was modeling mike's alpaca scarf) and turned it into a stitch marker - clever, cute, and very kind! she also included a very sweet, uplifting note.

thank you, illanna

! you rock and roll, sweet susie.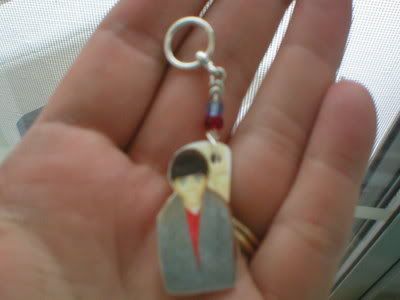 i also got my crafter's choice books that i'd signed up for:
the knitter's bible
knitting on the edge
felted knits
the knitter's handy book of sweater patterns
i'm excited to find a chunk of time where i can sit down and read these mamas.
and it finally snowed - and it's play-worthy snow! woohoo! hopefully by the next time i post, i'll have frogged half of kyoto and turned it into kyesso and not kyono!