my last fo of 2004
was this pair of socks for mikeypoo: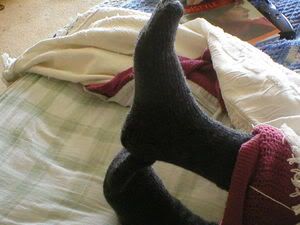 he says they're really warm, and he loves 'em! they're done using the same pattern as before, the cabin fever "first socks," and i have to say i have really enjoyed doing socks with this pattern! i used plymouth encore again, and it was okay, but a little fuzzy.
i was working on mike's socks while we were driving to his parents' house last week, and we had stopped to get gas. i noticed two of the station workers there were looking at me and laughing, and i was starting to grow paranoid. well, mike was out there pumping gas and was told me that they were astonished to see someone knitting with five needles. "do you see that? she's knitting with five needles," said roscoe (i don't know if that's his name, i just assigned it to him). i was happy to hear that it was astonishment that had them laughing and not anything hanging off of my nose.
so i finished those socks on new year's eve and immediately began with another pair, using brittany's in a size 2 and trekking xxl , a gorgeous fingering weight sock yarn: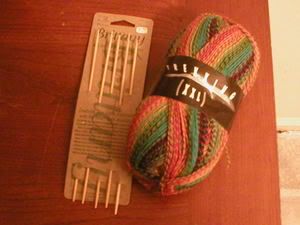 it's fun, albeit a little different than the original socks i'd done, which called for worsted weight yarn and size 5 dpn's. i have to say, i'm in love with brittany dpn's! they really hug the fiber well, without making you manipulate them too much to let go.
the pattern i'm using for this new pair of socks is awesome - it's from yankee knitters, and it's their "classic socks" pattern. it gives you the directions for using fingering, sport, and worsted weight, as well as sizes ranging from baby to men, all in one pattern. there are a kazillion numbers listed in the directions since there are so many options, so i really had to circle the size i was doing so i wouldn't get lost!
just to weird myself out, i work on the socks for an hour, and then go back to scarf style's "ruffles," using size 6 needles and worsted weight wool. my fingers take awhile to get used to the difference in weight!
this week it's back to normal - back to homeschooling (we've had off for 3 weeks), back to planning for Girl Scouts (cookies go on sale tomorrow!), and back to basic homemaking stuff (now i can't use wrapping presents or xmas shopping as an excuse for not having dinner ready!). while i feel a little blue that xmas is over, i kind of am welcoming the return to routine. we took down all the xmas deco yesterday, and it's a little sparse looking, i must say!
another thing - i joined the kyoto knitalong, which officially begins 1/15. i am excited to begin!
happy 2005, everyone!