today's forecast: knitty, warm and cozy
which means it snowed. big time. the perfect excuse to not run here and there, do this or that. just the chance to sit back, relax, and guiltlessly knit. ahhhhhh. better than calgon, i tell ya! (which i've personally never used. my mom forbid it when we were younger, citing its potential to make you break out.)
i finished up marah's yankee knitter classic socks, which i've now officially renamed "marah's birthday socks." i'm telling you, the creativity is just gushing out of my ears. anyway, her birthday is monday (she'll be 10 - double digits *sniffle*) and i really needed to finish these up fast. the problem was, i'd lost the pattern. i thought it was in my sister's car, but she looked, and no dice. so on thursday i went out and bought another copy at ye olde lys. on friday, my sis calls. "you still looking for the sock pattern?" well, it was in her car. so now i have two copies of the exact same pattern. one for each eyeball? each sock? each needle? pfft. i'm sure i'll find someone who could use it.
anyway, here they are, as modeled by marah: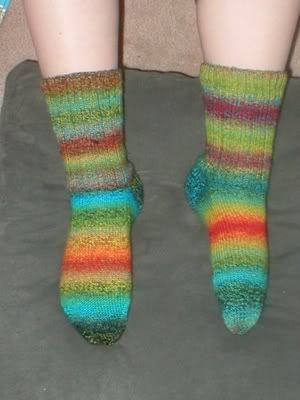 i used size 2 brittany dpns, and some gorgeous trekking xxl sock yarn. i have a bunch leftover and might use it along with this plymouth italy baby cotton fingering yarn i got from elann last week.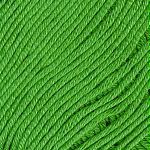 i'd like to use the italy baby and the rest of the trekking and finally get around to making the hugs and kisses socks. however, i've still got kyoto to work on - i decided to frog the sash section and begin working on the back. it's straight stockinette, so i don't have to fuss with the double seed stitch just yet.

thanks

to everyone who gave me kyoto advice.
i also still want to do ene's scarf from scarf style and finally picked up some addi turbo's last week to cast on. that would be my first lace-style knitting, as well as my first experience with a chart, so i'm a little intimidated by that, but also rather excited. kind of like the first time you eat pufferfish. which i haven't done, but i imagine it's intimidating but exciting. or maybe just plain stupid.
anyway, an overdue fo shot: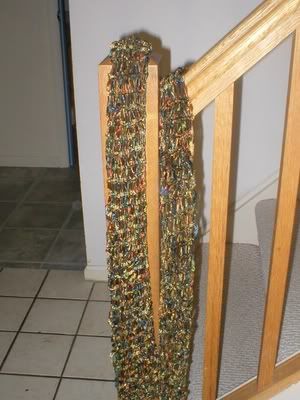 it's my yo, drop it! scarf from snb nation. i actually finished it last week, but i kept forgetting to take a picture. i modified the pattern by not having two rows of knitting in between the yo/drop stitch rows. why, you ask? well, it's simple really. i forgot to. heh.
i leave you with a shot of the latest addition to my stitch marker family. remember when lisa (aka knittikins) discovered the joy of using hello kitty shoe charms as stitch markers? well, i spotted some shoe charms this weekend of a different kiddy variety. here's a hint of who it is:
who lives in a knitting bag right by your feet?
yellow, stitch-marking, and plastic is he!
his friend, who's a star, is pictured on one, too -
put them on your needles is what you should do!
sing it to a popular nickelodeon cartoon theme song and it's obvious!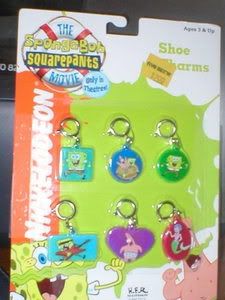 hee hee!